Where can I see my Premier bandwidth usage?
To view your Premier account bandwidth, log into your account.

Next, click the user icon in the upper right corner of the page (
) and select
Settings
.
On the left side of the page, under Subscription, click Usage.

On the Usage Overview page, you can view your current bandwidth and view your usage history. You can also buy more bandwidth if desired.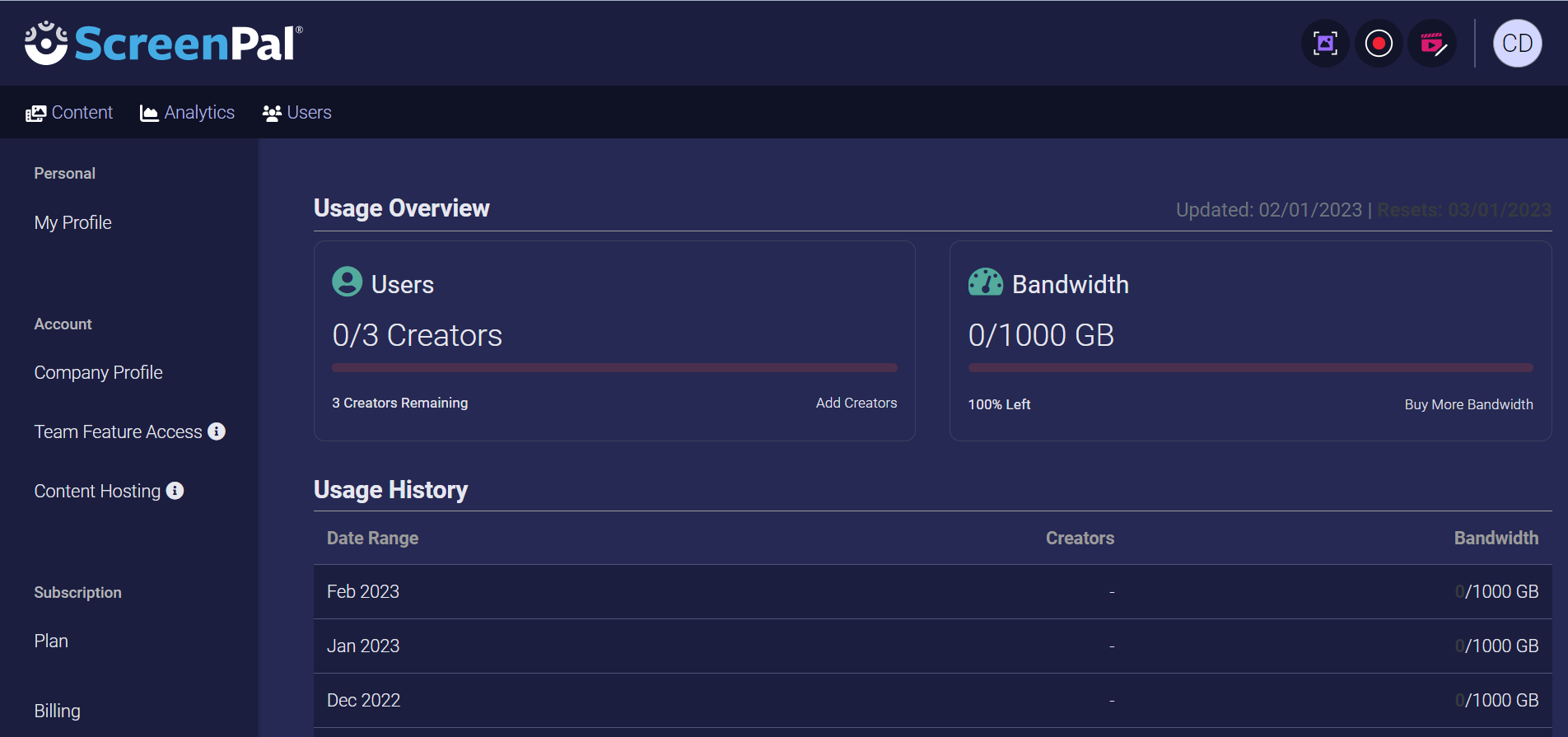 Related Articles

Team Plan High and Max Usage Emails

Team Plan High and Max Usage Emails You can choose to receive an email when your Team Plan is close to reaching the maximum number of computers or maximum bandwidth for the current month. You'll also receive another email when and if you reach the ...

What happens to my uploads if I cancel my Premier Hosting?

What happens to my uploads if I cancel my Premier Hosting? Your account will revert to Free hosting. All your links should continue to function. Your account will be subject to the bandwidth limits for free hosting and you will lose Premier features ...

See more upload options

How to see more upload options Our screen recorder allows you to upload recordings to various services like YouTube, Vimeo, or to our own hosting site. In order to add these services, please see the instructions below. Add more upload options To see ...

Groups: Usage and sharing

If you are part of a Team plan, you can create collections of users called Groups. You can then share content to groups and add and remove users within a group. Create a new group 1. To get started, log into your account and click My Content in the ...

Set up hosting and homepage Solo Premier, Solo Max, and Team Plan subscribers

Premier Hosting Settings Premier Hosting allows subscribers to personalize their viewer's experience. Channels and homepages can be fully customized with your branding. Branding options can include company name, company logos, video player colors, ...