Premier Hosting Settings

Premier Hosting allows subscribers to personalize their viewer's experience. Channels and homepages can be fully customized with your branding. Branding options can include company name, company logos, video player colors, and specific channels displayed.
To access the Video Hosting settings, please visit our website and sign in with your Solo Premier, Solo Max, or Team Plan account credentials.



Note: To change some of the settings for a Team Plan, you must be an Account Owner or Administrator.

Once you are successfully logged in, click your user badge in the top right and select Settings.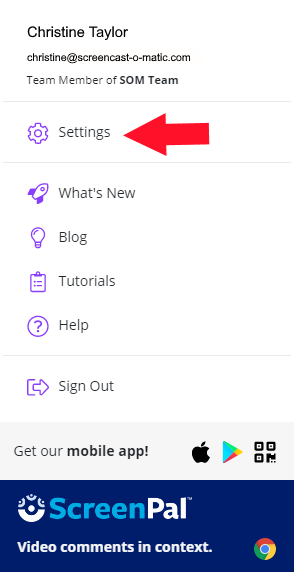 Next, click Content Hosting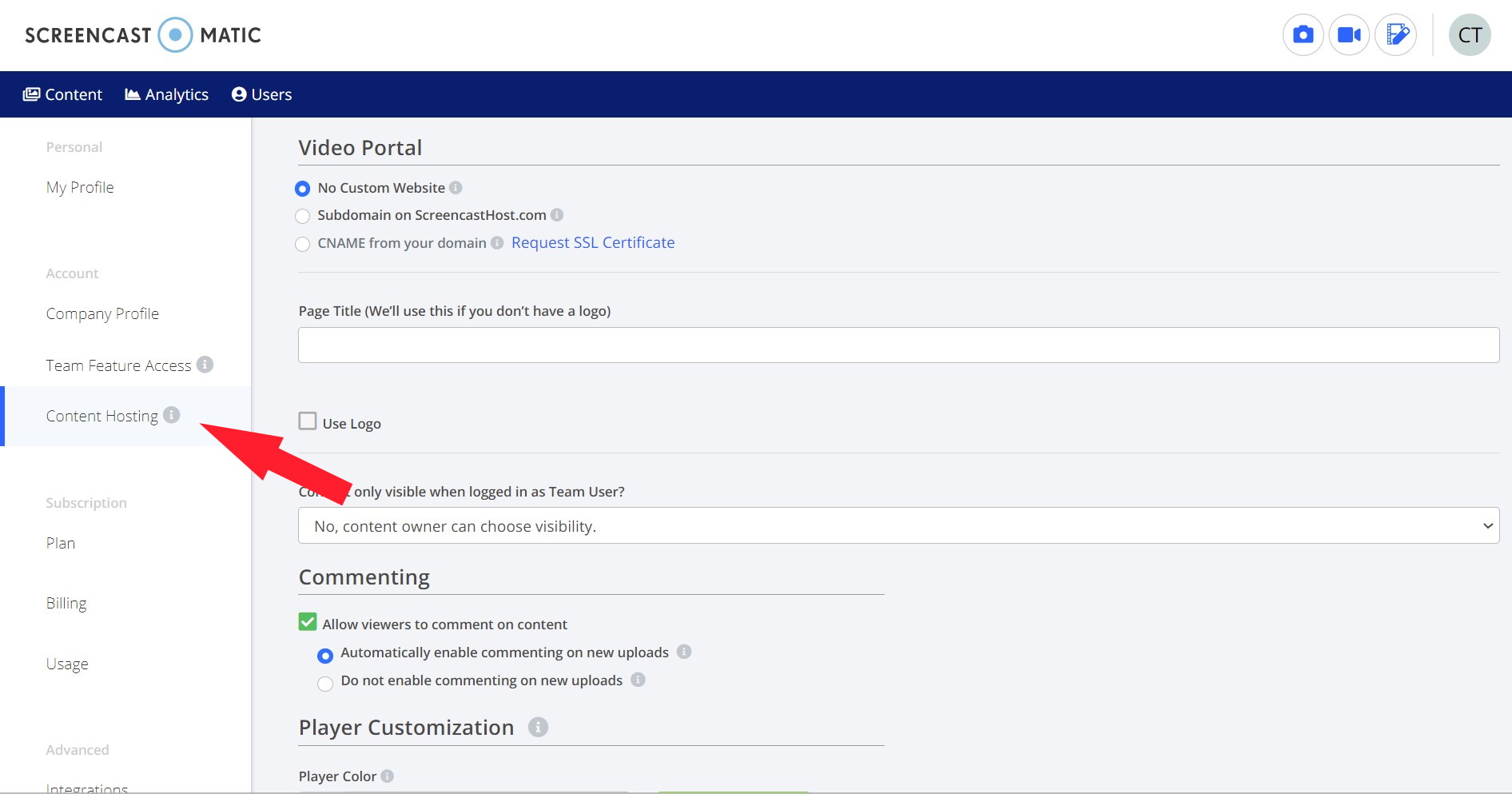 Select your video portal

Use the options under Video Portal to determine whether users will use a custom domain to access your videos, or if your video links will point to our site. If you choose to point users to our site, you can still customize the logo that will be displayed on your SOM site.

No Custom Website

Links to the videos you upload will be accessed from Screencast-O-Matic.com.

Subdomain on ScreencastHost.com

Selecting this option enables you to customize a subdomain on Screencast-O-Matic.com. For example, "YourCompanyName.ScreencastHost.com".

CNAME from your domain

Use this option to map your own subdomain, or website (for example, video.mysite.com) to your selected content homepage. You can also click the link beside this option to request an SSL Certificate for a more secure HTTPS site.

Click on the support article below for assistance with setting up a CNAME:

Add a company logo
To use a company logo, select the Use Logo checkbox. Next, click the Upload Logo button to upload your logo image.


Note: The recommended logo dimensions are 400px x 100px and the max upload size is 2MB.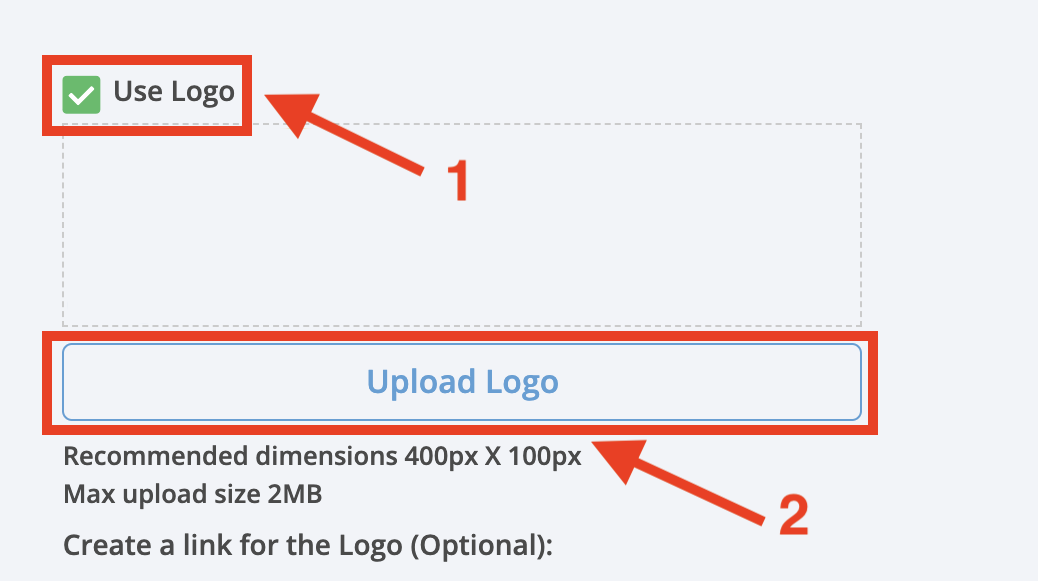 If you do not have a logo and would like to use your company name instead, enter it in the Page Title box.

Homepage display

Use the Home Page drop-down list to select the items that will displayed on your team's homepage. Available options are:

Show a blank page

Show a channel (which enables you to choose a channel when selected)

Show most recent uploads

Show a list of channels

Team Premier subscribers
As an Account Owner or Administrator, you can use the Content only visible when logged in as Team User drop-down list to enable users to select their own content visibility options (select No, content owner can choose visibility), or determine that only invited users can view the videos uploaded by your Team's users to your Hosting account (select Yes, require content only visible to Team Users).
If you would like to allow viewers of your Team's content to comment on videos, select the Allow viewers to comment on content checkbox.

You can also choose to automatically enable commenting on new uploads or automatically turn off comments when your users upload a video.

Player Customization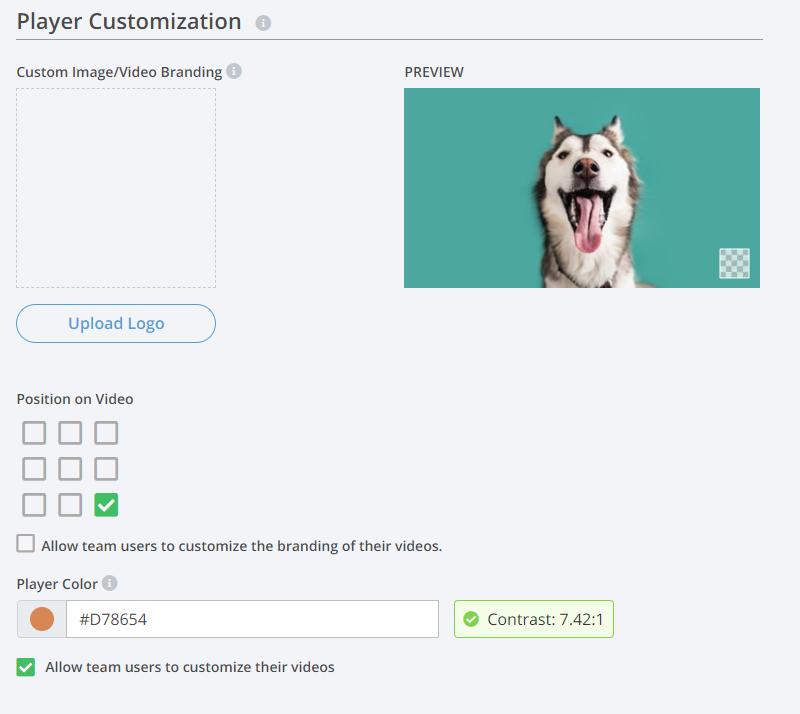 From this area, you can add a custom image, logo, or icon to be displayed on all your Team's images and videos. Uploading this image from the Content Hosting area displays the uploaded image on all videos for all members of your Team. To upload an image, click the Upload Logo button and select a file. Next, select the image or logo's position on your videos by selecting one of the boxes under Position on Video.

To enable your Team's users to upload their own logos or images and customize the branding of their own content, select the Allow team users to customize the branding of their videos checkbox. If you do not select this check box, the Player Branding area on the Video Details tab will be disabled for all Team members, as seen in the image below (users will not be able to switch the toggle to the ON position):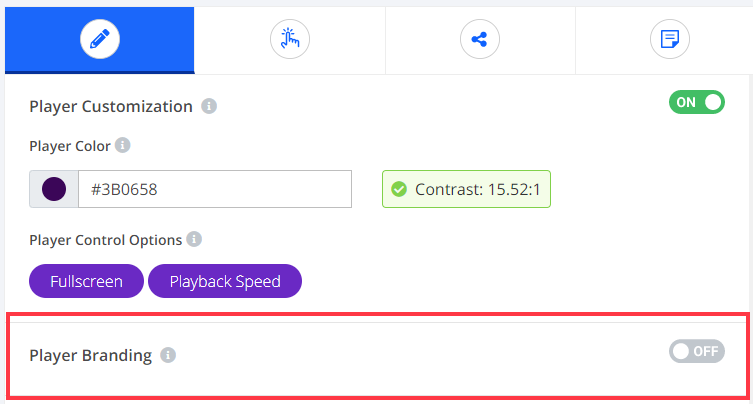 Under Player Color, you can also change the video player color palette to match your organization's logo and branding.

If you'd like to allow the members of their team to select their own player color palette, select the Allow team users to customize their videos checkbox. If you clear this checkbox, the Player Customization section on the Video Details tab will be disabled for users on your Team.
You can view the following tutorial for more information about customizing the video player:

When you are finished modifying these settings, click Update Video Hosting Settings to apply your changes.

If you have any questions or need further assistance, please contact our support team directly by using the link below. Click Submit a Ticket and provide us with a brief description of your concern. We will contact you within 24 hours.