Definitions

Team Creator: A team member who has license access to the capture and editing tools and associated Team Plan features. Creator licenses are use-based (not user-based). This means that licenses are consumed only when a Team Member launches the creator tools. Licenses rotate each month so they can be shared across Creators.
Team User: A team member who has an account on ScreenPal to enable account-specific features (hosting, collaboration, backup and restore, sharing).
Users can join your Team Plan to get access to advanced capture and editing tools, premium hosting, collaboration, and sharing features. When a user joins your Team Plan, they get their own private hosting space. From this space, they can manage their content and share it across the team to collaborate on projects. After a Team Member is invited to your team and logs in, they will have access to the video editor, advanced features in the screen recorder, and other Team-specific features (such as access to the stock library, backup and restore, mobile transfer, and so forth).

You can add users to your Team Plan using one of the following methods:
From the Users tab, your Team Admin can send an invite link to users who can then request Team access, invite individuals using their email address, and bulk upload groups of users using a .csv file.
SAML is configured through your admin account to enable Single Sign On (SSO) based on your organization's method of authentication and user identity. Once you have configured SAML, the first time a user authenticates via SAML, their Team hosting account is automatically created.


Note:
You can configure access to Team Creator tools without user accounts using an access page. To do this, see the article
here
.
SAML

SAML enables SSO using your organization's login so you don't have to create a separate login account with ScreenPal for each of your users. SAML is especially convenient for larger deployments and when your team users are transient (that is, they join or leave your organization), as it enables you to grant or remove rights to Creator Licenses using SAML authorization. SAML setup is covered in several articles and can be setup directly by your Team Admin in Settings. For more information, please see these articles.
Users tab

Log into your account as a Team Admin and click the Users tab.
From here, there are two options for adding users: Bulk User Management and +New User.


New User button

When you click +New User
you have the option to add users by email address or by sending a link that they can use to sign up for your Team account.
Sign Up Link
Use this option to send a unique invitation link associated with your Team Plan. When users visit that link they can either sign up for a new account or log in with an existing account to join your Team.

If you select the Automatically Accept Requests to Join checkbox, once the user has registered with your Team Plan their status will show as Approved in the Admin's Users tab and no further action will be needed. Otherwise, their status will be displayed as Pending. In this case, click the More Options icon (
) next to their name to approve the user as part of your team.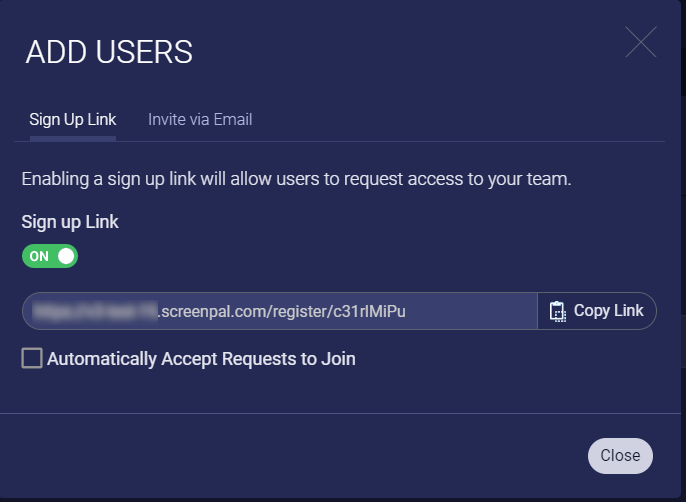 Inite via Email

This option can be convenient when adding users for small teams or adding an individual user after your Team account has been established. When you add users directly via email they are approved immediately. They will be displayed with a status of Invited until they actually accept your invitation.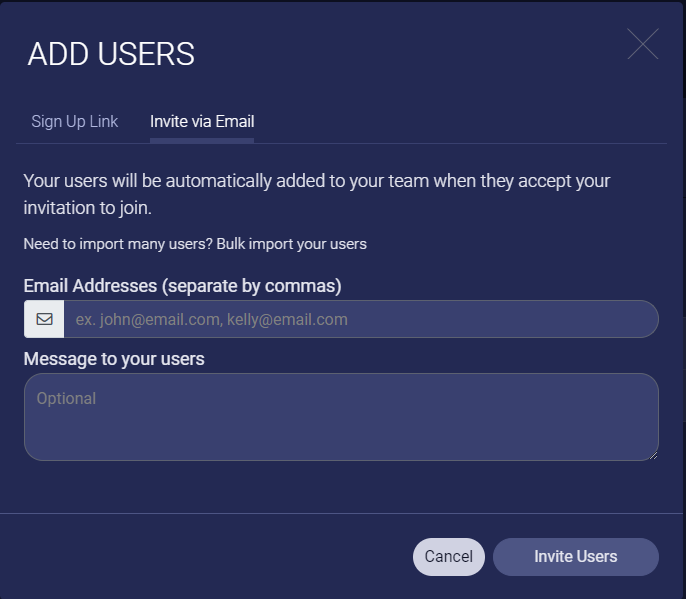 When the invited user receives your email invitation they can click the Accept button and either create a new account or, if their email is already registered, log in with their existing account.
Bulk User Management
When you click Bulk User Management, you can select Bulk Import Users.

This option brings you to a page with instructions for bulk import.


Start with our template

This option enables you to download a .csv template to your computer and then add your users data, including adding users to groups (if the group is not created, we will create one at upload), and creating folders for each user.
Import users from a CSV File

This option enables you to select your own CSV file to import. You can upload the .csv file and review your data for any errors. You can choose to fix errors and upload a new csv file, or ignore the errors and upload all valid user rows from the file.
You can resend invitations to users who have not yet received or accepted your original invitation to join your Team Plan. You can also revoke invitations for uses you mistakenly invited to your Team Plan, or users that are no longer with your organization. To complete either of these actions, click the More Options icon (

) next to a user's name whose
Status
is
Invited
on the
Users
page and select either
Resend Invite
or
Revoke Invite
.