Enable the ScreenPal recorder on a site
By default, ScreenPal works on most sites, but on some sites we are continuing to polish the experience. For those sites, we may configure the default setting to disable the ScreenPal screen recorder. You can re-enable the recorder by visiting the extension menu in your Brower and moving the slider to On.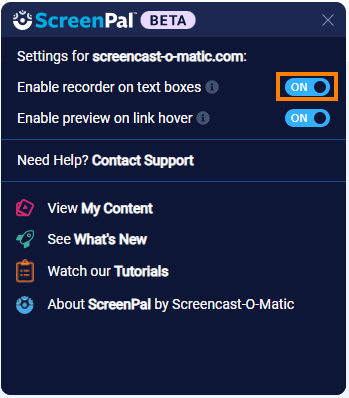 Related Articles

Enable ScreenPal Video Preview on a site

ScreenPal Video Preview is a feature that enables you to experience videos without having to open them and leave the webpage you are currently visiting. With ScreenPal Video Preview, when you hover over a video link (or thumbnail), the video plays in ...

Install ScreenPal Extension

Installing in Google Chrome: Visit the Chrome Web Store, here. Click Add to Chrome. Once installed, you will see the ScreenPal icon in web-based text fields. For example: Installing in Microsoft Edge: Visit the Chrome Web Store, here. Click Add to ...

Team Plan Admins: Enable or Disable Upload Endpoints for the ScreenPal App

Team Plan Admins: Enable or remove upload endpoints for our app The ScreenPal desktop application allows users to save their recordings as a video file or to upload their recordings to services including the ScreenPal hosting site, YouTube, Google ...

ScreenPal FAQ

Q: What has changed? A: Our name and branding. You can still expect the same quality products and support, with a new name that is easier to say, spell, understand, and type. Our tools work the same way they always have, with a fresh look. ...

Hide and Show the ScreenPal extension on websites

You can control showing or hiding ScreenPal on specific websites. To hide ScreePal on a specific website, begin by hovering over ScreenPal icon. Then, click on the "X" for the option to hide. When you click Yes, hide on this site, ScreenPal will not ...