Hide and Show ScreenPal on websites
You can control showing or hiding ScreenPal on specific websites.

To hide ScreePal on a specific website, begin by hovering over ScreenPal icon.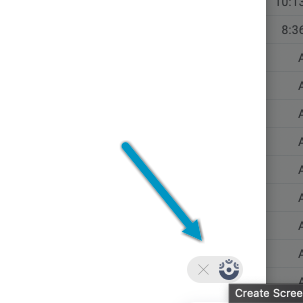 Then, click on the "X" for the option to hide.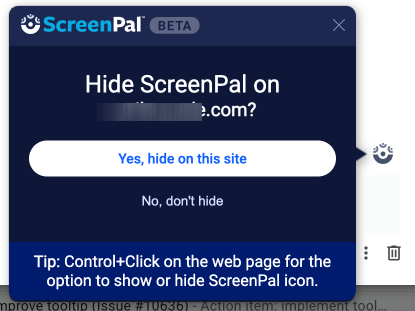 Once clicking on "Yes hide on this site", it will not show again on any text boxes on the site.

---
Change your mind? You can enable ScreenPal.

If ScreenPal is hidden on a site, you can choose to show it again.

Click on the ScreenPal Chrome Extension. It will show a slide menu for "Enable recorder on text boxes". Sliding from Off to On will enable ScreenPal on the website. Sliding it to Off will disable it on the website.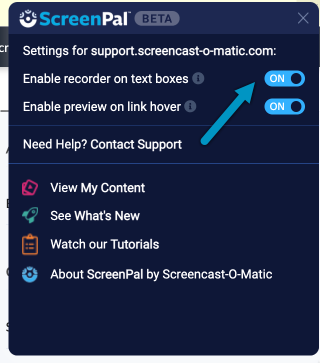 The ScreenPal extension icon may not be "pinned" to show in Chrome. It can be pinned by clicking on the puzzle piece icon and clicking on the pin icon for ScreenPal.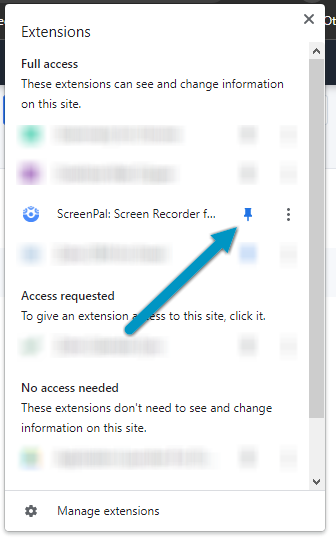 You can also right-click on the web page (outside of a text box) for fast access to ScreenPal options.

Related Articles

Install ScreenPal Extension

​Installing in Google Chrome: Visit Chrome Web Store here. Click on "Add to Chrome" Once installed, you will see the ScreenPal icon in web based text fields. Installing in Microsoft Edge: Visit Chrome Web Store here. Click on "Add to Chrome" Once ...

Admins and Teachers: How to setup ScreenPal with Moodle

Admins and Teachers: How to setup ScreenPal with Moodle The ScreenPal LTI screen recorder integrates with many learning management systems. This article will help with the setup and use of our LTI app within the Moodle LMS for administrators and ...

ScreenPal FAQ

Q: What has changed? A: Our name and branding. You can still expect the same quality products and support, with a new name that is easier to say, spell, understand, and type. Our tools work the same way they always have, with a fresh look. ...

Use your password manager to associate your Screencast-O-Matic credentials with screenpal.com

After our switch from screencast-o-matic.com to screenpal.com, password managers such as Bitwarden, LastPass, and the built-in password managers for Google Chrome and Microsoft Edge, will not associate your Screencast-O-Matic username and password ...

Show finger taps when recording on your Android device

The Screencast-O-Matic mobile application does not capture user gestures, such as taps and swipes, for display within the recorder, in order to protect your privacy. However, you can enable the Show taps functionality independently on your Android ...