Hide and Show the ScreenPal extension on websites
You can control showing or hiding ScreenPal on specific websites.

To hide ScreenPal on a specific website, begin navigating to that website.


Under Settings, turn the following items off to hide them on the current site.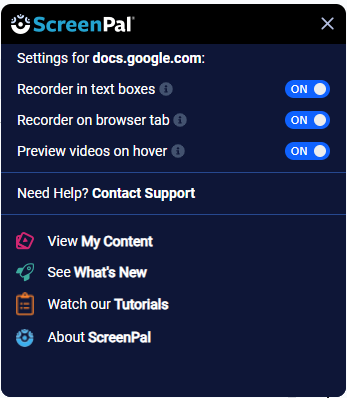 ---
Change your mind? You can enable ScreenPal.

If ScreenPal is hidden on a site, you can choose to re-enable it, simply use the toggle to turn the following options ON.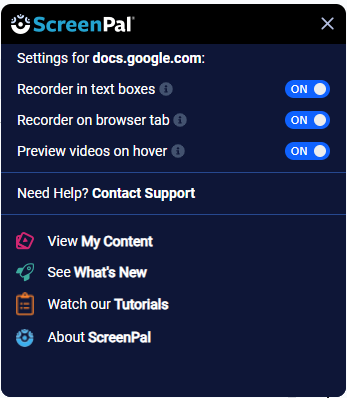 Recorder
in text boxes
:
When this option is ON, the ScreenPal icon is displayed in the lower right corner of all text boxes on the current website, to enable you to begin recording from them.
Recorder on browser tab: When this option is ON, the ScreenPal icon is displayed on the page (as seen in the image below) . You can click this icon to being recording from the current website.


Preview videos on hover: Turn this option on to enable a video preview when you hover over the ScreenPal link on the current site.
The ScreenPal extension icon may not be "pinned" to show in Chrome. You can pin it to your Chrome menu bar by clicking on the Extensions icon (

) in the Chrome menu bar and clicking the pin icon for ScreenPal.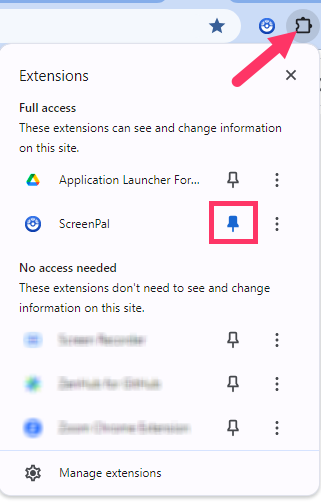 You can also right-click on the web page (outside of a text box) for fast access to ScreenPal options.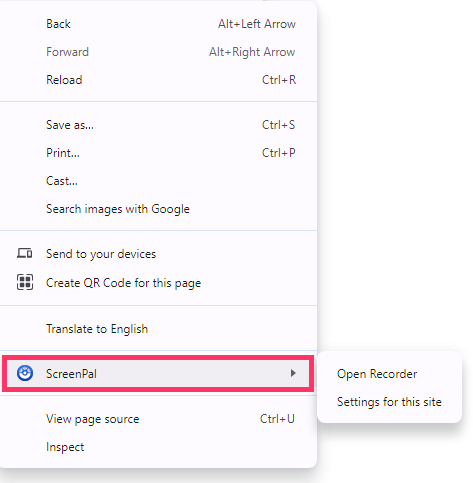 Related Articles

Install the ScreenPal Extension

Follow the instructions below to install the ScreenPal extension for Google Chrome and Microsoft Edge. Our extension enables you to quickly launch our desktop apps, including the Screenshot tool, Screen Recorder, and Video Editor, and record video ...

ScreenPal Chrome Extension: How to contact support with an issue

If you experience an issue using ScreenPal and need to contact support, you can visit the extension menu from your Google Chrome browser. First, click the ScreenPal icon in your Chrome toolbar to display the extension, and then click the cog icon in ...

New ScreenPal Chrome extension is disabled

Accept permissions for the new ScreenPal extension Please note that if you were running the old ScreenPal Video Messaging and Desktop Launcher extensions and you install the new extension, Chrome will disable the existing installation until you ...

Use Apple to sign up for ScreenPal

Using your Apple ID, you can easily sign up or log into ScreenPal. You can also choose to hide your email address when signing up with ScreenPal, using Apple's Hide My Email feature. This feature lets you create unique, random email addresses to use ...

ScreenPal FAQ

Q: What has changed? A: Our name and branding. You can still expect the same quality products and support, with a new name that is easier to say, spell, understand, and type. Our tools work the same way they always have, with a fresh look. ...