Overview
Analytics provides rich data on how much, when, and where viewers engage with your videos. You can review aggregate, time-based, and individual viewer data that helps you understand the effectiveness of your videos for learning, communication, and engagement. This data can be helpful to improve video effectiveness and better planning for future content initiatives.
Content Trends

The Content Trends page allows you to chart video analytics, view key video metrics, and compare selected videos' performance data over a specified time period in a single view.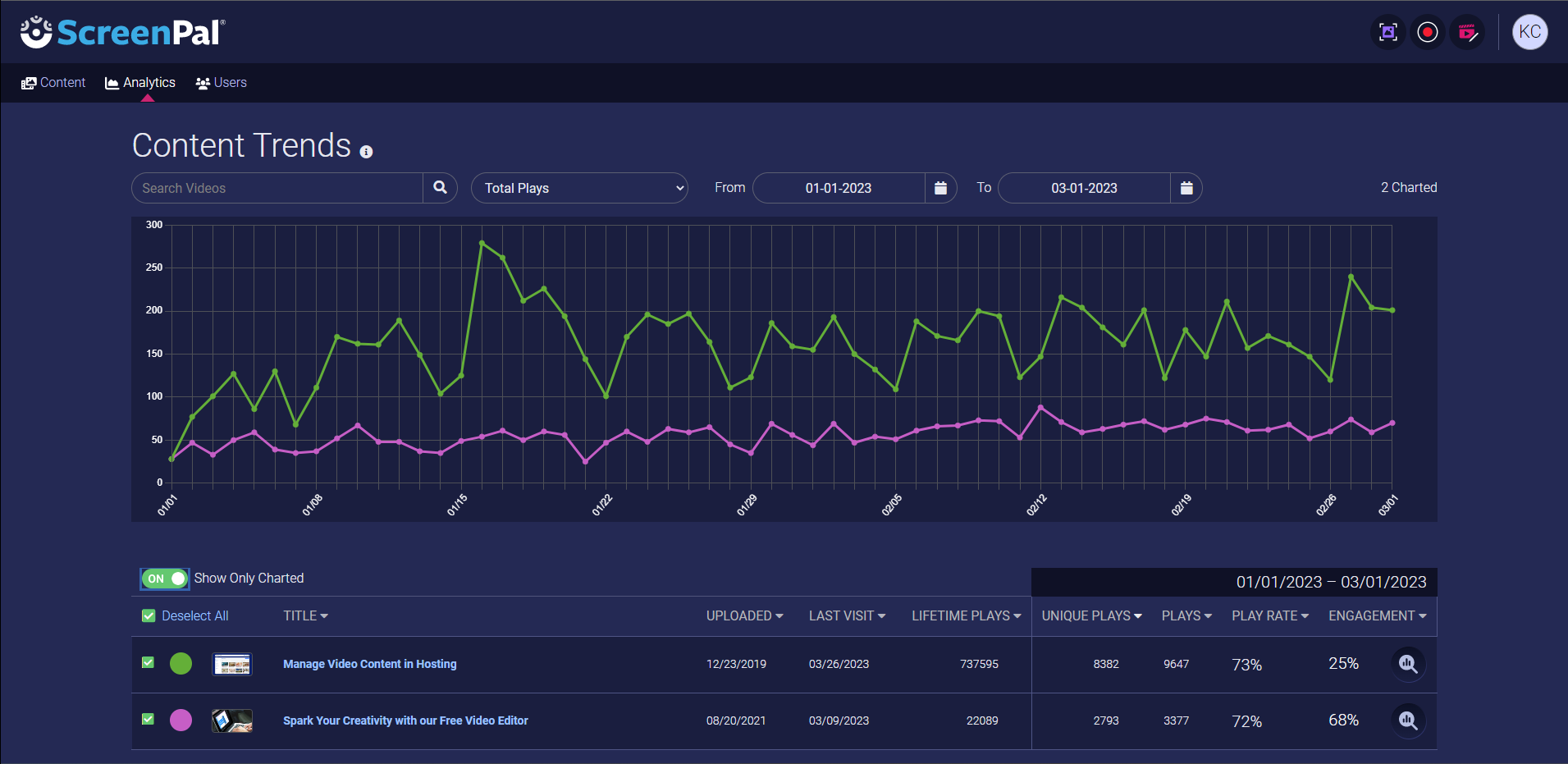 Pre-requisites

For analytics you will need:

A Solo Max Plan or Team Business/Team Edu Plan (purchased after May 31, 2022)
Videos uploaded to our site that have been viewed at least once


Note: This feature started collecting detailed analytics data beginning Jan 2022. Data prior to 2022 will only include Total Plays.
Definitions

Total Plays: The total number of times a video has been played for the specified date range. The event is triggered once a user clicks the play button. A user who plays a video twice will be recorded as 2 plays in the total.
Unique Plays: The total number of times unique users have played a video for the specified date range. The event is triggered once a user clicks the play button. A unique user who plays a video twice will be recorded as 1 play in the total.
Lifetime Plays: The number of Total Plays for a video since uploaded.

Last Visited: The last time a page has been visited that included the video.

Last Viewed: The last time the video has been played.

Heat Map: A graphical timeline representation of video plays for a user, showing a green color overlay for what parts were viewed. Darker colors represent sections that were viewed multiple times.
Play Rate: The number of users who visited the video and then hit the play button as a percent.

Engagement: How much of the video was watched as a percent, calculated as an average across all watch events (= average of total time watched / video duration * the number of plays).

Accessing Content Trends
Access Content Trends for your videos by clicking the Analytics button on the top left of your content library when logged into your account.


On the
Content Trends
page, you will see a chart area and below the chart is a table listing uploaded videos in your content library.
To chart total views for any video just select the Chart check-box next to the video title.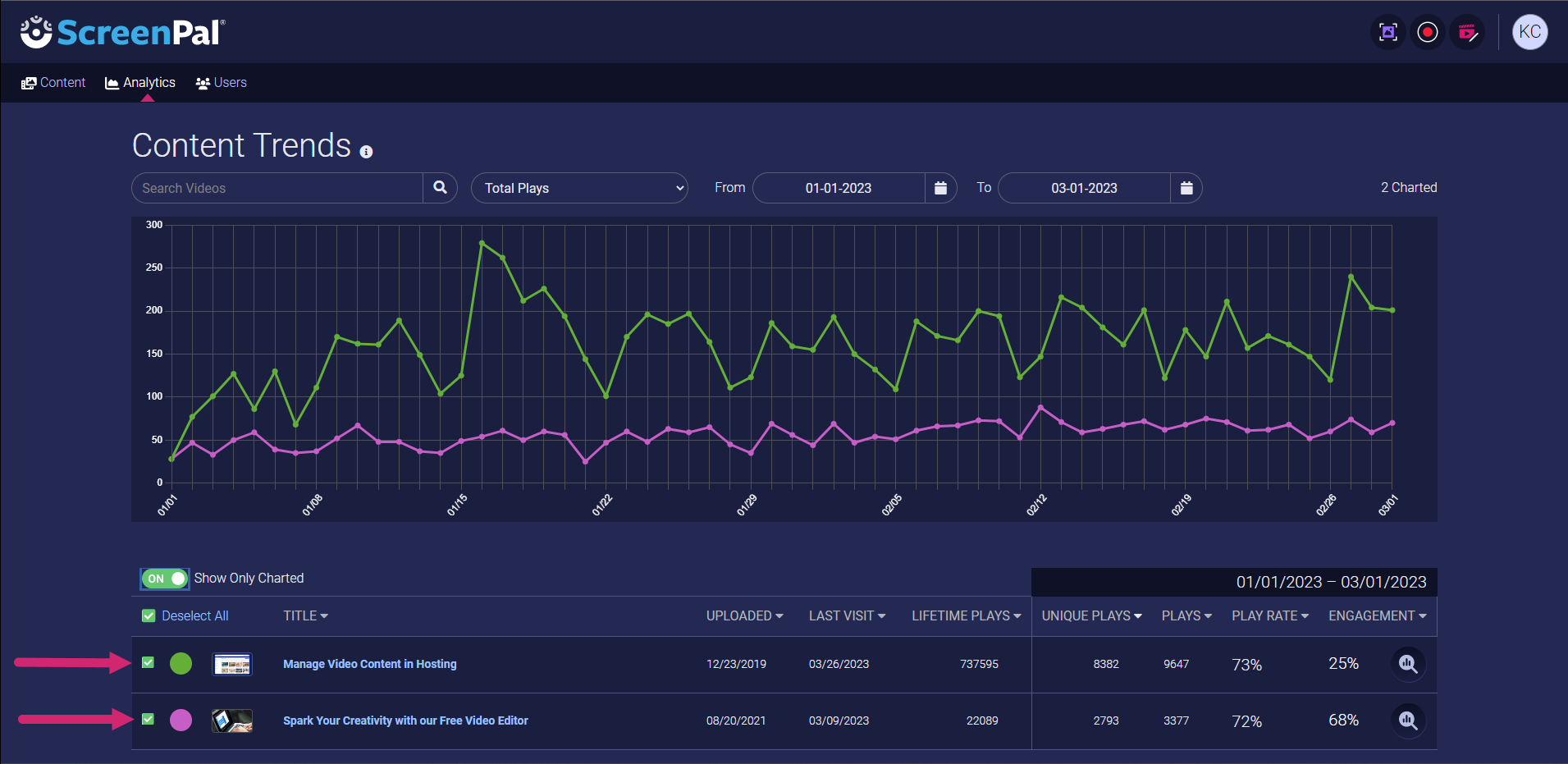 Note: Only videos hosted on our site are tracked. If you uploaded videos to other hosting services, such as YouTube they will not be tracked.
By default, the timeline selected for charting videos is the last 30 days. You can adjust this timeline by selecting the From and To dates in the date selectors.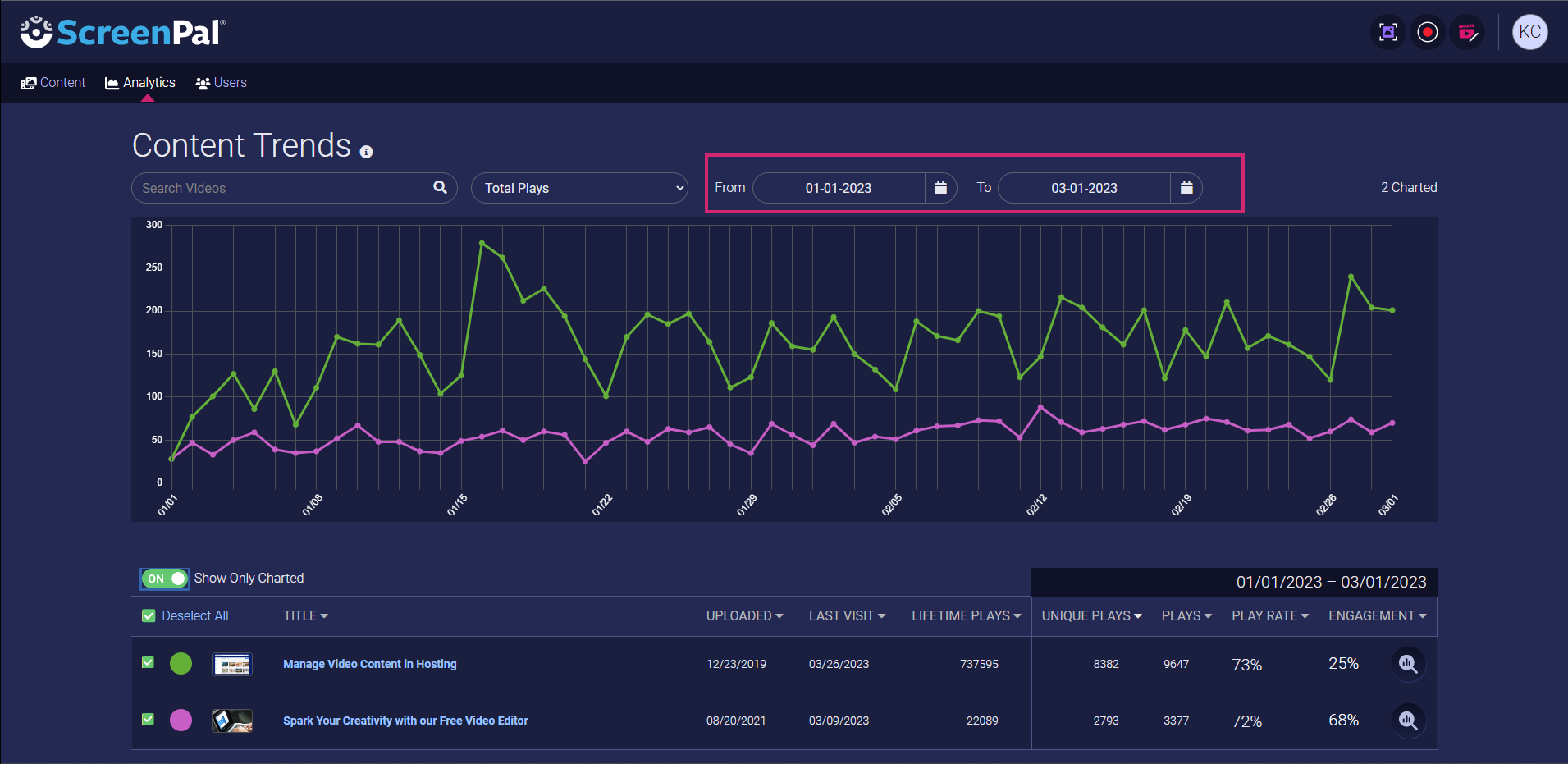 Hover over a data point on the chart to see total views for a specific date:



Note: Data presented from selected dates currently aligns to days based on UTC. We will be adding the ability to present results based on your selected time zone in the near future.
You can narrow the list of videos presented by entering keywords into the search box.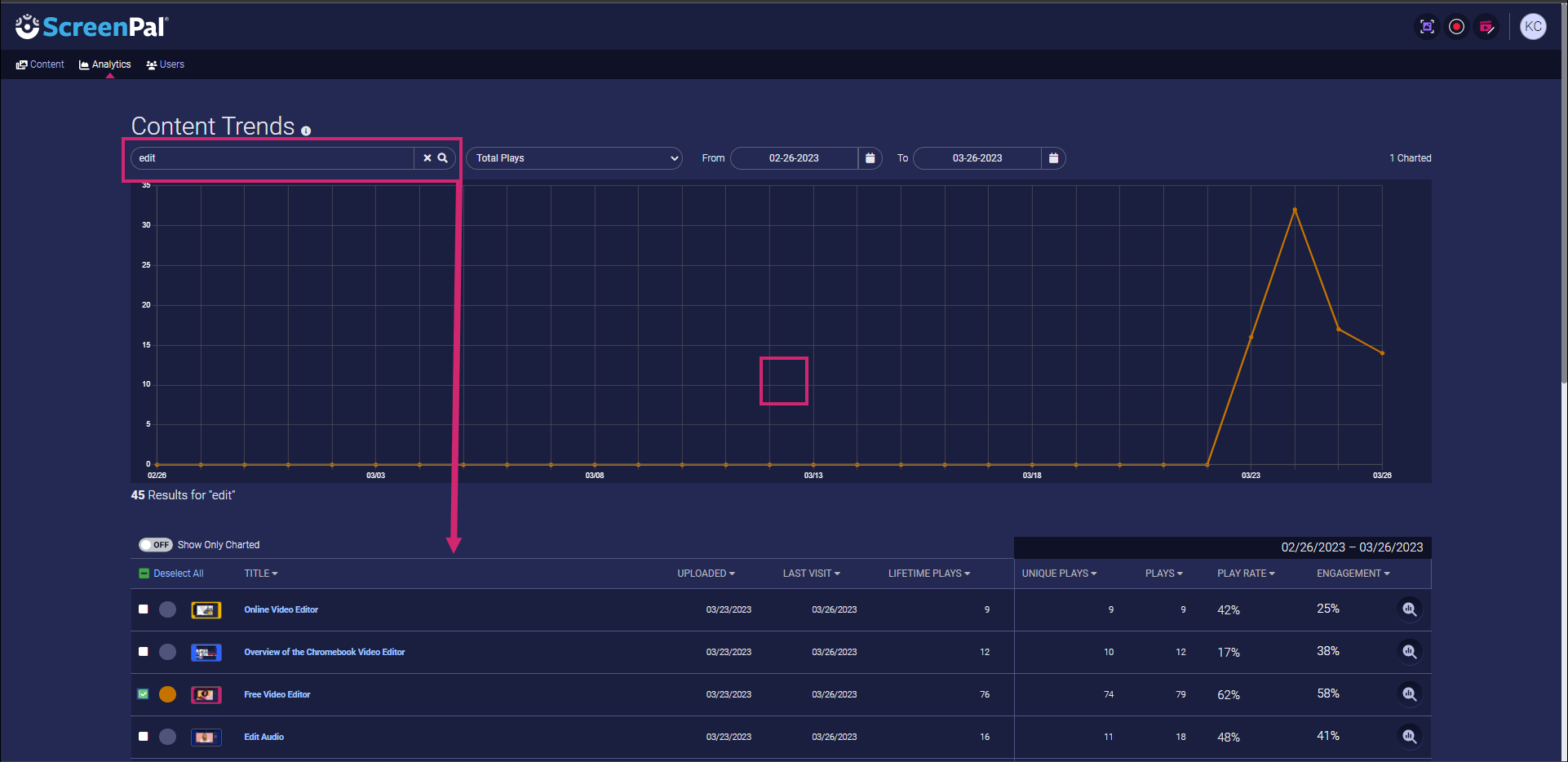 Use the
Show Only Charted
slider to display
only
the videos you have selected to be charted (
check box selected):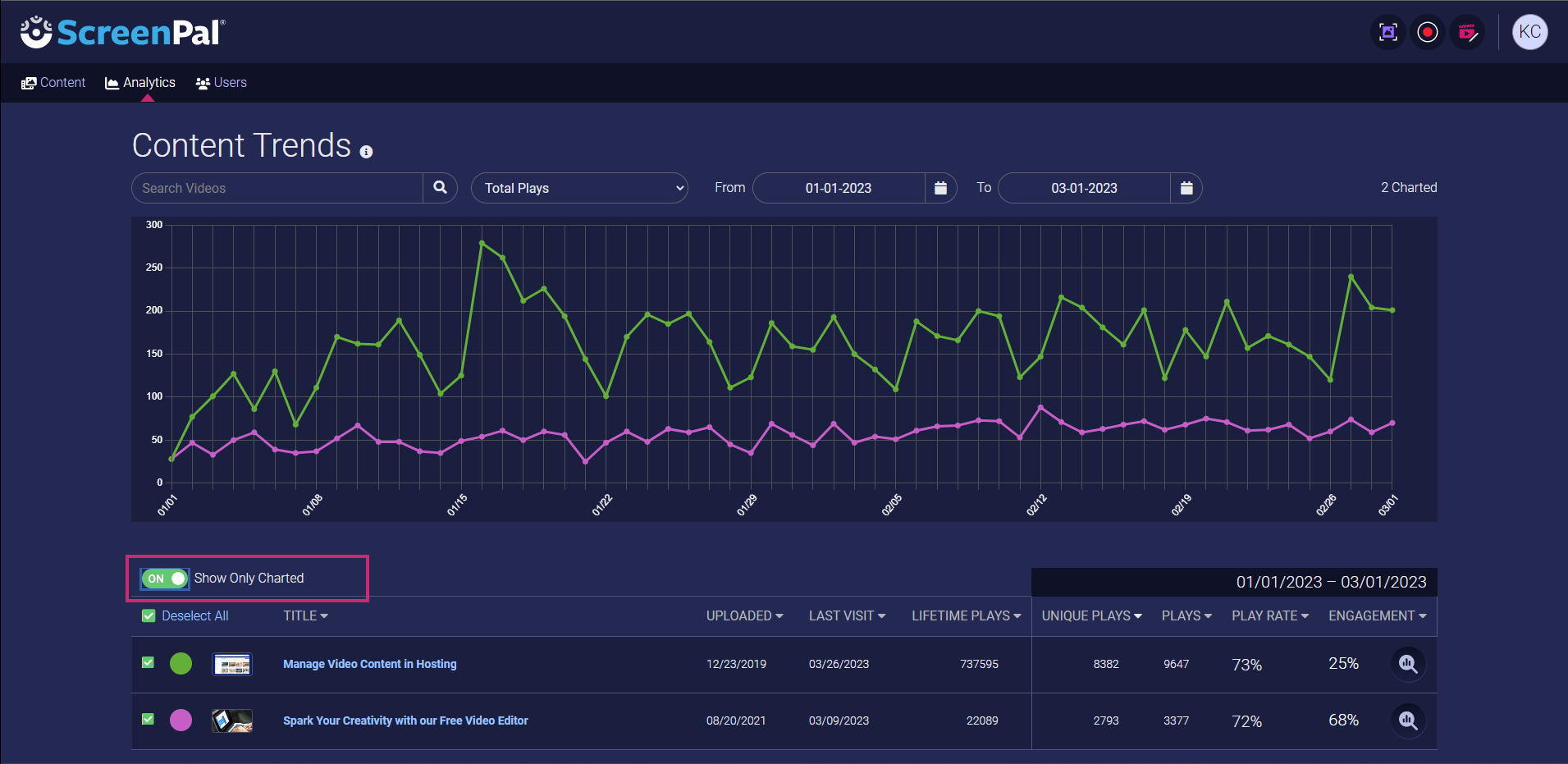 You can also page through the table to find the video(s) you want to be charted. You can also set the number of videos per page to be displayed in the table.