Quizzes
You can add questions to the end of your video to turn it into a quiz or survey. A quiz is a great way to ensure that students are engaged and learning, make your videos more interactive, or engage and connect with your audience. Note that the Quizzing feature is only available with Solo Max, Team Business, and Team Education plans.
With these plans, Quizzes can be created from any video you make using our app, or from an uploaded video.

To begin, log into your account and click My content in the upper right corner of the screen.

In the Videos area, hover over the video to which you want to add a quiz, click the More Options icon (
), and then click Create Quiz.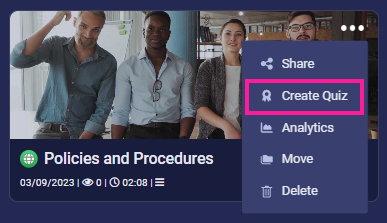 When you click Create Quiz, the Create a Quiz dialog is displayed.


Your video title is displayed as the
Quiz Title
by default, but you can enter a new title if desired. Next, click the
Create Quiz
button. This opens the
Quiz
page.