Use the four tabs on the Quiz page to create your quiz, configure the quiz's settings, and view the results of a quiz.
Edit Quiz tab
Use the Edit Quiz tab to add questions to your quiz.

To add a question, click the video timeline where you want the question to appear and then click
Add a Question
. This opens the
Add Question
fly-out menu. Use this menu to select the type of question you want to add, enter the question text, and select other options related to the question. You can also simply add questions to the beginning or end of your video.
The available question types are Multiple Choice, True / False, Short Answer, Poll, and Rating.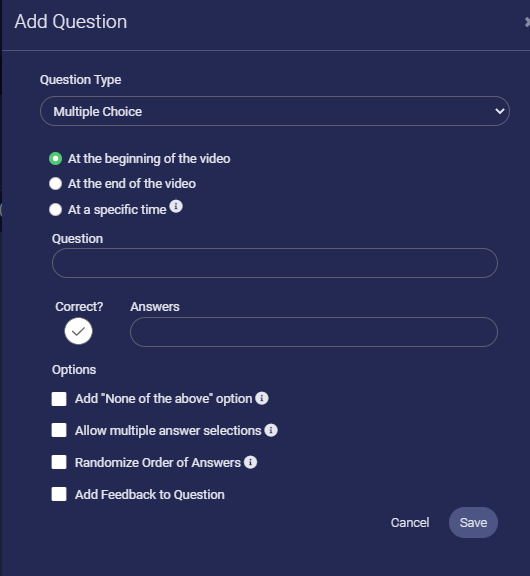 After you add a question to your quiz, you can edit, duplicate, delete, or move it by clicking the More Options (

...

) button next to the question in the
Quiz Questions
area.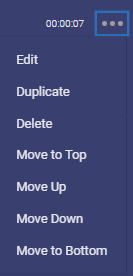 Assignment & Settings tab
Use the Assignment & Settings tab to determine how you want to assign your quiz, as well as the access and assignment settings for your quiz.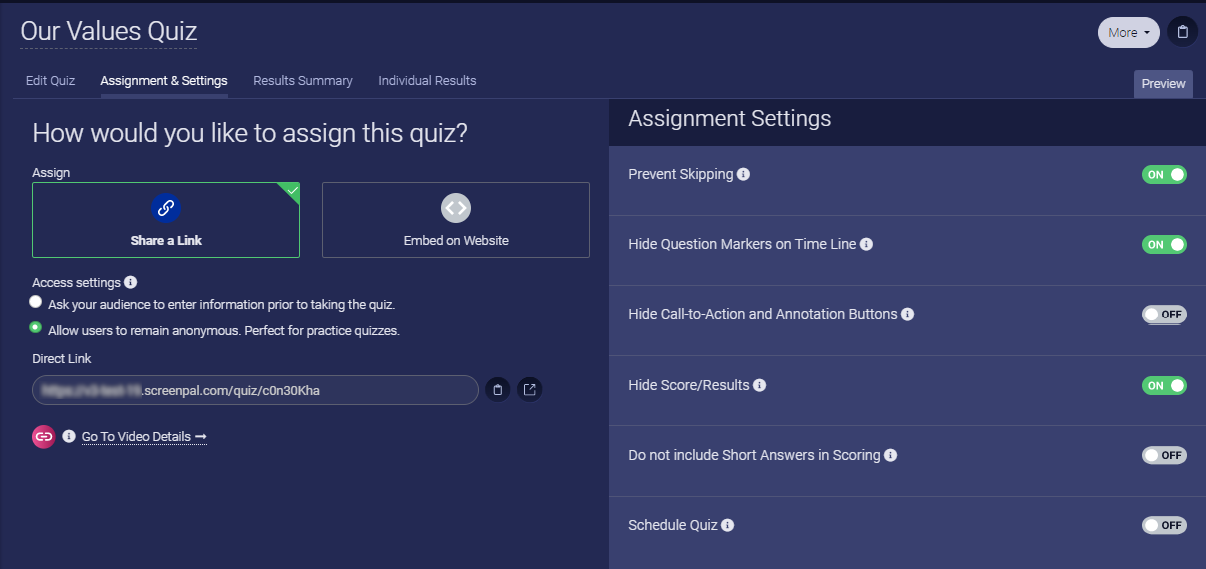 You can share a quiz by clicking
Share a link
and copying the link in the
Direct Link
box to send to your viewers. You can also click
Embed on Website
, select the
Embed Video Size
, and then click
Copy Code
to copy the embed code and add it to your site.
The following Assignment Settings are available on the right panel of the Assignment & Settings tab:
Prevent Skipping
Switch the toggle to the On position to prevent your audience from skipping forward in your video. If this setting is turned on, your viewers must answer all questions in the quiz before they can proceed in the video.
Hide Question Markers on Time Line
Switch the toggle to On to hide the question markers in your video timeline. Viewers will not be able to see indicators for when questions will be presented to them.
Hide Call-to-Action and Annotation Buttons
Turning this option on hides all call-to-action and annotation buttons that you previously added to your video. If you choose to display these buttons, they will appear in addition to the quiz questions.
Hide Score/Results
When this option is on, viewers will not be able to view their quiz score until they submit their answer to the final question on the quiz.

Do not include Short Answers in Scoring
Turn this setting on to exclude short answer questions from the participant's score.

Schedule Quiz
Turning this option on enables you to schedule the quiz for a future date. When you toggle Schedule Quiz to on, the Schedule Start Date and Schedule a Due Date checkboxes are displayed. Select the options you want to select a start date and time and a due date and time for your quiz, if desired.
Results Summary tab
Use the Results Summary tab to view the results of completed quizzes. You can see how many viewers visited your quiz, how many of them completed the quiz, how many partial responses there are, and view quiz data.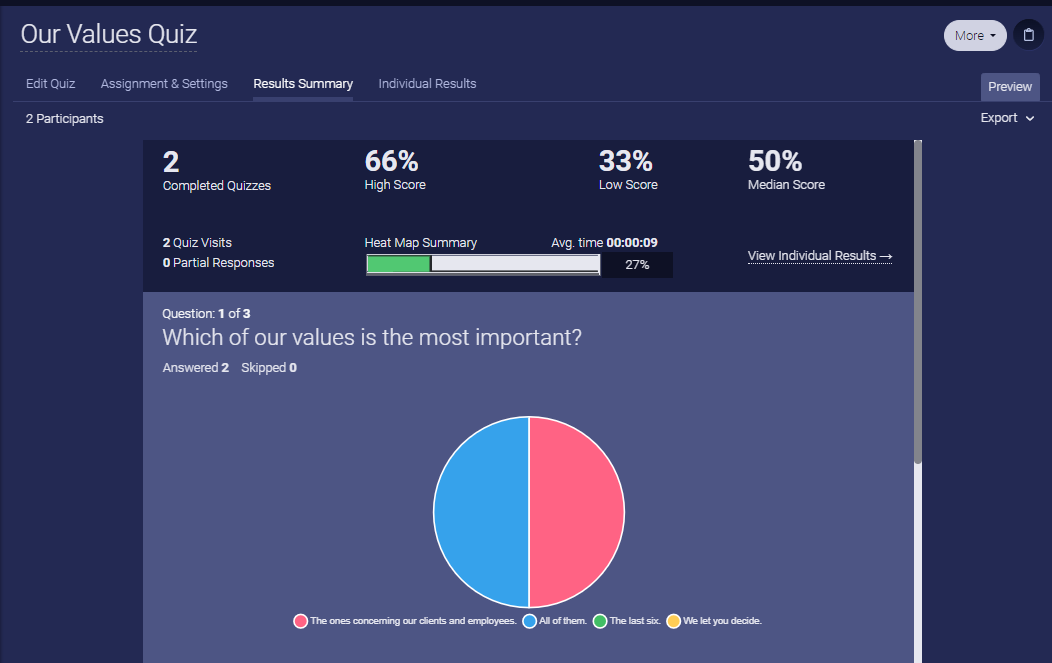 Individual Results tab
Use the Individual Results tab to view information about each quiz respondent, including when they last watched your video, their current quiz status, and their quiz score.

To view respondents' answers to each question, manually score quiz answers, and provide feedback for each question, click
to open the Quiz Results panel.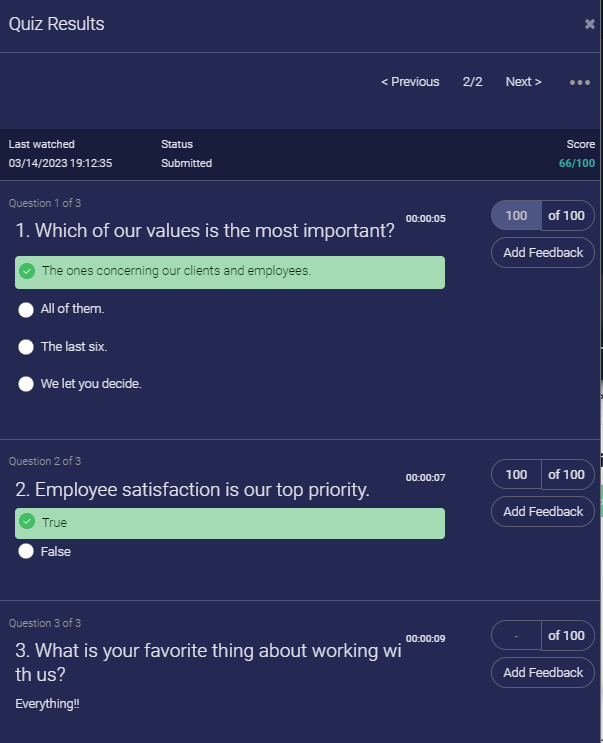 Lastly, you can preview your quiz at any time by clicking the
Preview
button in the upper right corner. You can also duplicate your quiz by clicking the More button and selecting
Duplicate Quiz
.
For more information, you can view our
Intro to Quizzing tutorial
!