How to see more upload options

Our screen recorder allows you to upload recordings to various services like YouTube, Vimeo, or to our own hosting site. In order to add these services, please see the instructions below.
Add more upload options

To see more upload options, such as Vimeo and YouTube when you first start using our app, click the Add more publishing options icon on the recording's page.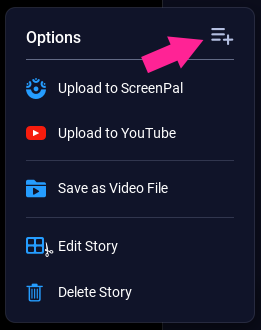 When you click this icon, the following options are displayed: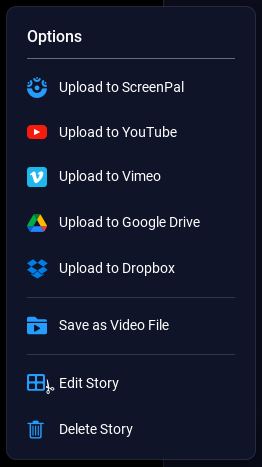 Upload to ScreenPal: Clicking this option opens Select publishing options, enabling you to enter a title, description, and other information and publish your video to your account.
Upload to YouTube: Enables you to
log into YouTube and grant access to our application to begin publishing videos to your YouTube channel.
Upload to Vimeo: Enables you to connect your Vimeo account and begin uploading your videos.

Upload to Google Drive: Enables you to connect your Google account and upload content to your Google Drive.

Upload to Dropbox: Enables you to connect your Dropbox account and upload content.

Save As Video File: Opens the Select publish options menu, enabling you to select a file type, folder, and so forth and publish your recording as a video file on your local computer.
Edit Video/Edit Story: If you are editing a Story, clicking Edit Story opens the storyboard. If you are editing a recording or imported video, clicking Edit Video opens it in the Video Editor.

Delete Story/Delete Video: Deletes the Story or video.