Use of the LTI app is only supported for Team Business and Team Education plans.

Enable the LTI 1.1 plugin in ScreenPal and find your Consumer Key and Shared Secret

You can use the LTI app to enable your team to access the Legacy Deluxe Team Plan tools (screen recorder and video editor), as well as additional features provided with Legacy Premier Team Plans and Team Education Plans (embedding a video channel, adding a screen recorder button for student assignments, etc.) Additionally, you can use the LTI app to access all of the aforementioned features using a new Team Edu or Team Business Plan.

In order for a Team member to access the Team features, a Team Owner or Administrator for the plan must configure the LTI app using a private consumer key and secret. To obtain these values, follow the steps below.
1. Log into ScreenPal with your Admin account.

2. Click your user badge in the top right and then select Settings.

3. On the left sidebar, click Integrations.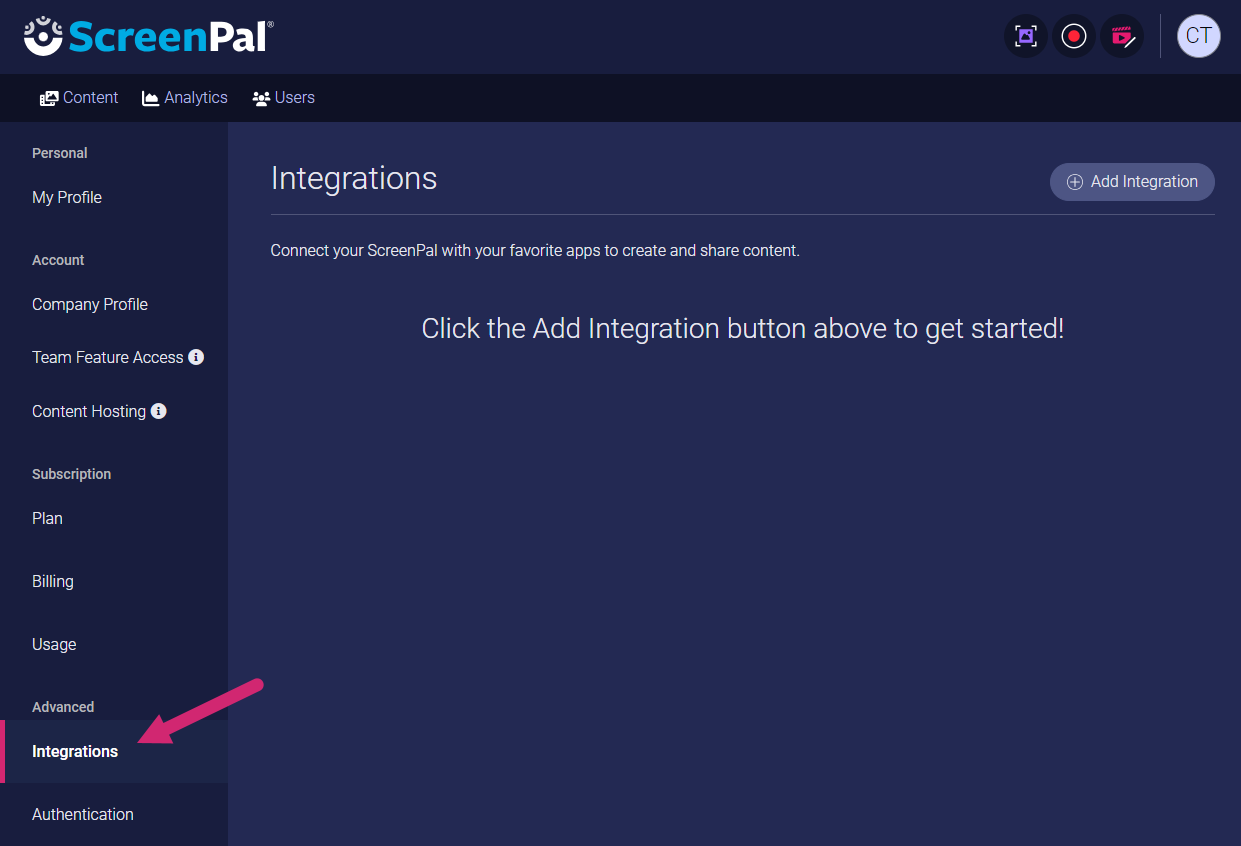 4. Click the Add Integration button at the top of the page. Additional controls are displayed.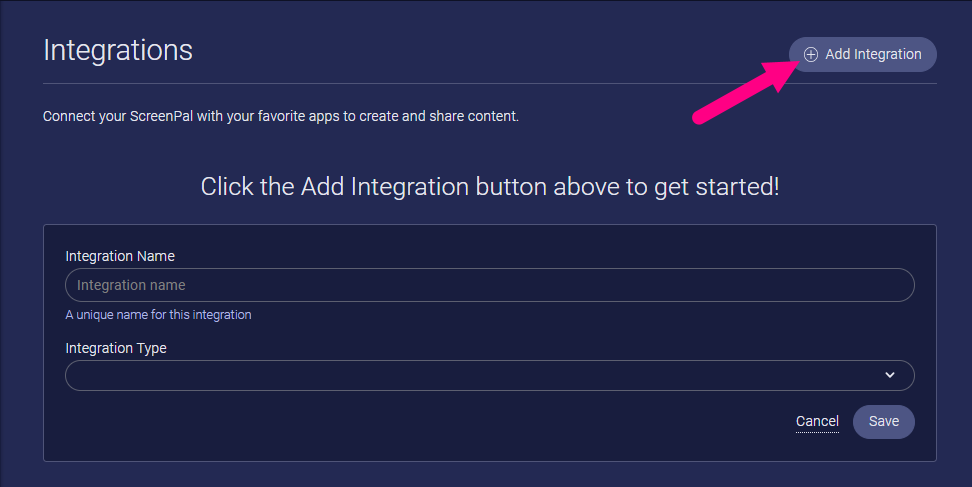 5. For Integration Name, enter a unique name for the integration you are adding. For example, ScreenPal LTI v1.1.

Please note that
you can have multiple integrations of the same type, so the name for each one must be distinctive.
6. For Integration Type, select LTI v1.1 Plugin.

7. Copy the Key and Secret values from the applicable fields and save them. You will take these values back to Schoology.

Note: Your Key and Secret values are are unique to your team account, and should not be shared with anyone outside of your team.
1. To add our app as an external tool for your school or district, log into Schoology as an administrator.

2. At the top of the page click Tools > School Management.

3. From the School Management menu on the left, select Integration. Click the External Tools tab, and then click Add External Tool Provider.

This opens the Add External Tool Provider dialog.
Here, enter the following:
For Tool Name, enter ScreenPal.

For Consumer Key, add the Key that you obtained from the Integrations page in ScreenPal.

For Shared Secret, add the Secret from the Integrations page in ScreenPal.

For Privacy, select Only send Email/Username of user who launches the tool.

For Configuration Type, select URL/XML.

For Configuration URL/XML, enter the following: https://screenpal.com/lti/xml

Click Submit.


Note: Free users can

ignore

the Consumer Key and Shared Secret fields when performing this setup.
You're all set! Your users can now enjoy making use of our LTI app within assignments in courses or any other place in the Schoology LMS where a rich text editor is present.