Why do I need to grant ScreenPal permissions to my device, camera, and microphone?
When you install our application on your mobile device, you will receive several notifications asking you to grant permissions to our app.

Examples of permissions you might need to grant our application are displayed below.

Access to your photos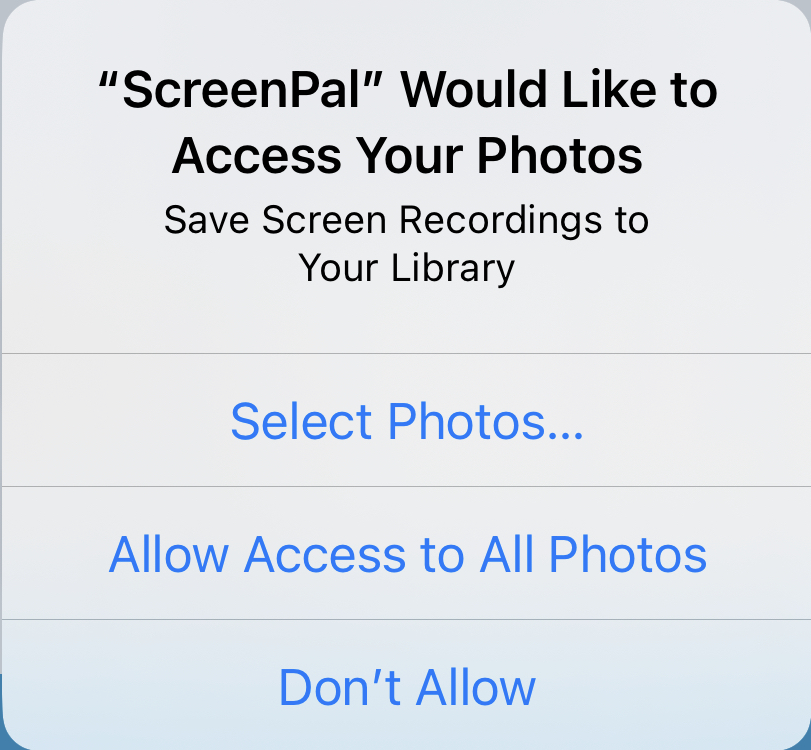 We need this access in order to create a ScreenPal folder in your Photo app, so ScreenPal can save screen recordings and other videos to your camera roll or gallery. All videos are saved to your device until you are ready to share them.
Additionally, ScreenPal needs access to your camera roll so that you can import existing videos from your device into our app for editing.
Access to your camera
We need access to your camera so you can create camera recordings in our app. Please note that ScreenPal only uses your camera while you are capturing videos using our app.

Access to your microphone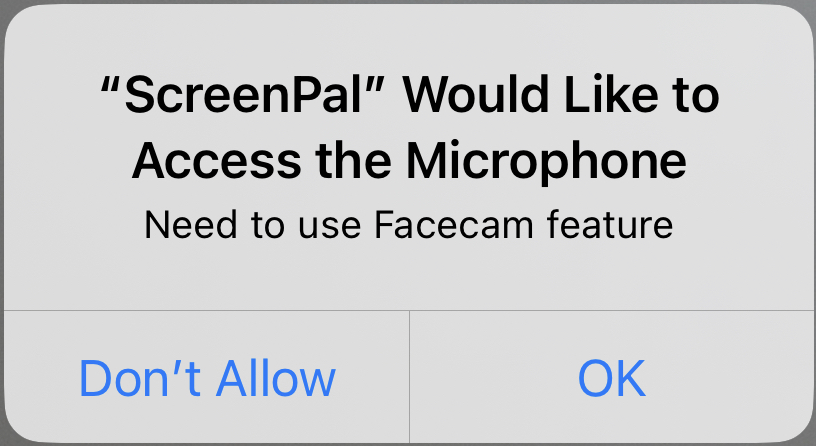 We need access to your microphone so we can record your voice when you create screen and camera recordings. You also need to enable access to your microphone in order to record narration using our Narrate tool.


Please note that we will only use your camera and microphone while you are capturing videos and narration. You can remove these permissions at any time from your device settings. For example:

Related Articles

Set up macOS Permissions for recording with ScreenPal

The ScreenPal recorder runs inside the Google Chrome web browser, which needs access to the following resources on macOS to make recordings: Screen Recording Microphone Camera Steps to enable access: 1. Click the Apple menu and select System ...

Grant permission to record on MAC OS

Grant Screen Recording permission If you are experiencing issues recording your screen with our application using MAC OS, or if the application is only recording your background or wallpaper, follow the steps below to troubleshoot this issue. 1. On ...

Install ScreenPal Extension

Installing in Google Chrome: Visit the Chrome Web Store, here. Click Add to Chrome. Once installed, you will see the ScreenPal icon in web-based text fields. For example: Installing in Microsoft Edge: Visit the Chrome Web Store, here. Click Add to ...

ScreenPal FAQ

Q: What has changed? A: Our name and branding. You can still expect the same quality products and support, with a new name that is easier to say, spell, understand, and type. Our tools work the same way they always have, with a fresh look. ...

View a team member's permissions as a Team Administrator

Our Impersonation feature enables Account Owners and Administrators to temporarily become an authenticated member of their team for testing purposes. Please note that you do not need to know a user's password in order to impersonate them, nor does ...