Where can I see my bandwidth usage?
To view your account bandwidth, log into your account.

Next, click the user icon in the upper right corner of the page (
) and select
Settings
.
On the left side of the page, under Subscription, click Usage.

On the Usage Overview page, you can view your current bandwidth and view your usage history.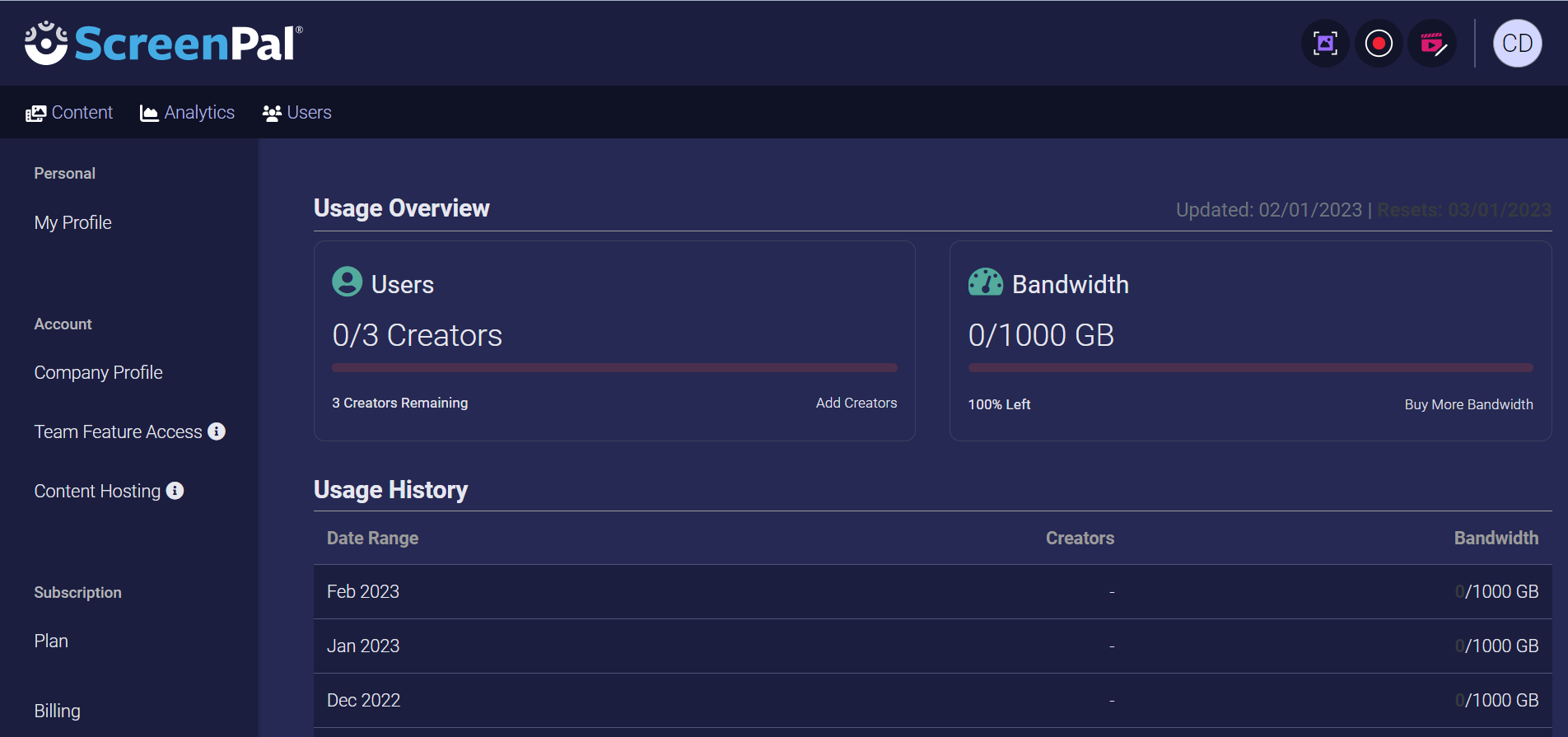 Related Articles

Bandwidth

Bandwidth is a measure of how much data is sent by the ScreenPal servers when viewers play back your videos. The more views you have and the larger the file size of your videos, the more bandwidth you will consume. Videos that are larger in file size ...

Team Plan High and Max Usage Emails

Team Plan High and Max Usage Emails You can choose to receive an email when your Team Plan is close to reaching the maximum number of computers or maximum bandwidth for the current month. You'll also receive another email when and if you reach the ...

See more upload options

How to see more upload options Our screen recorder allows you to upload recordings to various services like YouTube, Vimeo, or to our own hosting site. In order to add these services, please see the instructions below. Add more upload options To see ...

Groups: Usage and sharing

If you are part of a Team plan, your Team Admin can create collections of users called Groups. You can then share content to groups and to collaborate on content projects across your team. Share Content to a group 1. Log into your team account and ...

Why can't I see my video on my ScreenPal Content page online?

Why can't I see my videos and images created in the app on my online Content page? Content you create using the app is stored locally on your device. It only gets uploaded to ScreenPal's content hosting platform when you open the video in the desktop ...