Using a custom domain

When you have a Solo Premier, Solo Max, Team Plan, a Legacy Business or Education Team plan, or you are using our Recorder API, you can use our site to host your content and configure it as a subdomain (for example, videos.mysite.com).

This is a multi-step process and can be completed by following the steps below.

Step 1: Purchase or Register a Domain

You can buy a domain name from a reputable domain name registrar or hosting provider. There are many sites you can use to register a custom domain, such as GoDaddy, A2, Google Domains, Domain.com, and NameCheap. Visit one of these domain registrars, find the domain name you want to purchase, and follow the instructions on the registrar's site to purchase that domain name.
Step 2: Add your custom domain information in your content hosting account

You have your domain registered and the access URL created – Now let's add it to your hosting settings.

1. Log into your account as a Team Owner or Account Admin.
2. Click your user badge (

) and select Settings.
3. In the menu on the left side of the page, click Content Hosting.

4. Under Hosting: Site Setup,
click
Request SSL Certificate
.

This displays the Your domain field: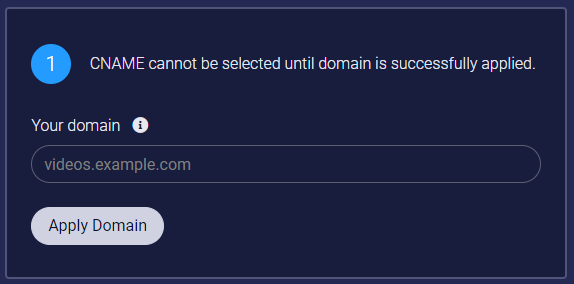 5. Here,
enter a subdomain.
A subdomain contains an additional piece of information, added to the beginning of your website's base domain. Your base domain is the domain name that you purchased from your chosen domain name registrar in step 1.

Do not enter your website's base domain for Your domain or the process will fail to secure an SSL certificate after you click Apply Domain.
Several examples of subdomains include:

blog.gamervideos.com

videos.mystore.com

recordings.sciencelessons.com
6. Click Apply Domain.
We will provide you with a URL to use for your hostname.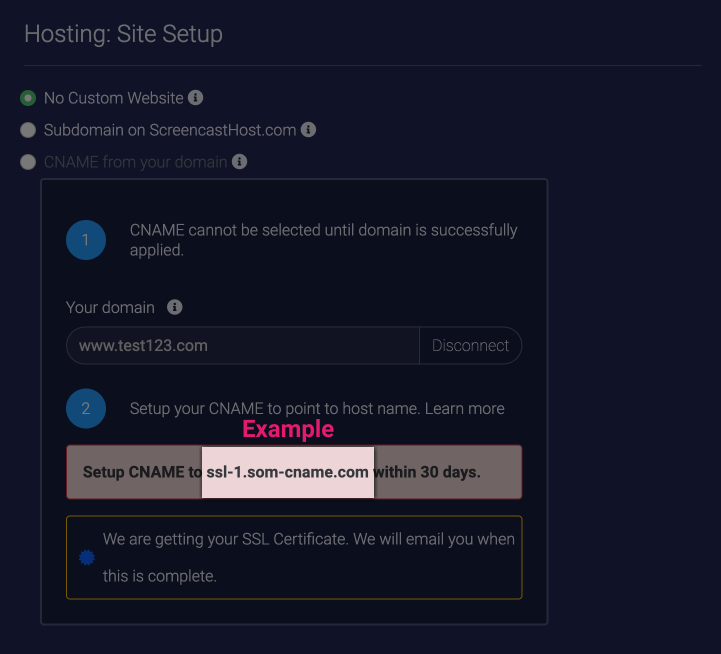 Next, you will need to set up your CNAME to point to your host name by logging into your domain registrar's site and making the necessary DNS modifications. E
very registrar is different and you may need to refer to additional support materials to make these modifications. DNS settings are typically under
Manage DNS Settings
or similar in your control center on your registrar site.
Click the name of your domain registrar below to see their documentation on making DNS modifications:
Step 3: Save your changes in ScreenPal Settings



After configuring with your domain registrar, add your website to
Content Hosting settings
and click
Update Video Hosting Settings.

We will secure your SSL certificate. Until then, a message is displayed on this page that states that your SSL Certificate is in process.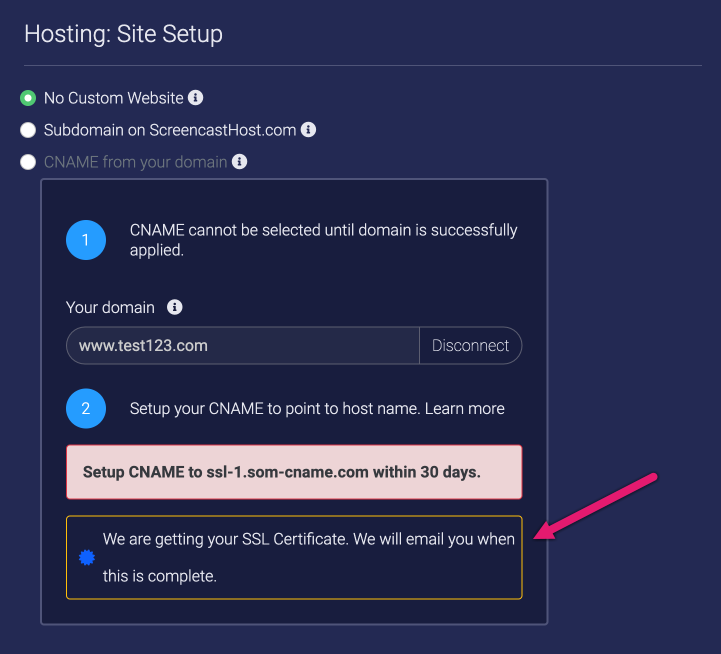 You will receive an email when the process is complete. This is will be completed in about 2 hours.

Once you receive the email, navigate back to the Content Hosting settings in ScreenPal and click the Enable Now button.

Step 4: You're ready to send traffic to your new site!
Now, select the Use Logo checkbox to select and upload your organization's logo.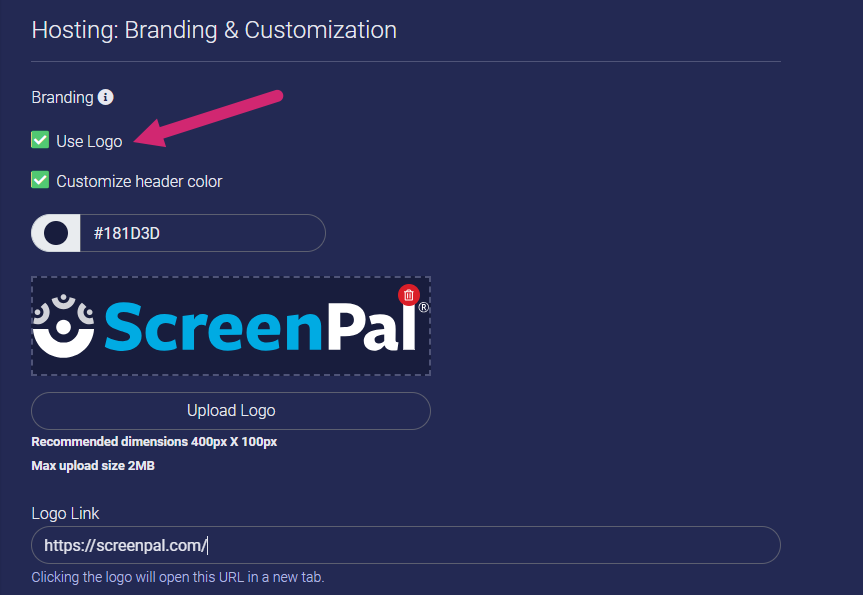 If you do not have a logo, you can enter a Page Title from the Hosting: Content section. Your viewers will see this title when they visit your site.

---
Disconnecting your domain from our app

To disconnect your domain from our app, log in and visit Video Hosting Settings

.



Click Disconnect.