Select video quality from the video player
As a viewer, you have the ability to select the quality of a video when you view it from the player. Available options are displayed in the Quality list when you click the Settings icon at the bottom of the player.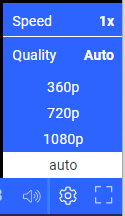 The Auto option is selected by default. This option enables the player to automatically select the best resolution, based on your available Internet bandwidth.

Additional resolution options are based on the source quality of the original video, selected by the creator when uploading the video. For example, if a user uploaded a video at 1080p, you can view the video at 1080p, as well as several lower resolutions.
If the Quality menu is not displayed, it means the video source file is only available in 720p resolution or lower.


Tip: If you experience high amounts of buffering when viewing a video, selecting a lower resolution can help the video to play more efficiently.
Related Articles

Customize the video player

With a Solo Premier, Solo Max, or Team Plan, you can easily customize the video player to match your personality, brand, or campaign. Please note that if you are a member of a Team Plan, your Account Owner or Administrator might choose to limit these ...

Edit a video project across a team

You can use the video editor to edit your co-worker's video projects, also known as .screenpal (or .somrec) files. To share your video files for editing with your team, you will need to export them from your Project Manager. Click on 'Manage Video ...

Create video memes

How to create Video Memes You can create video memes using the video editor, and share them directly on social media. To create your own video memes, please follow the steps below: 1. Launch our application on your computer, or launch the Video ...

Color Contrast for Player Accessibility

Color Contrast: Web Content Accessibility Guidelines (WCAG) 2.1 define how to make content more accessible to people with disabilities. According to the WCAG, for contrast conformity at the mid-range level (AA), the visual presentation of text and ...

Embed a video on your website

You can easily embed your videos on your website using an embed code. To do this, complete the steps below. 1. Log into your account via our website. 2. Click My content at the top of the page. 3. In the Videos area, hover over the video you'd like ...