I have a solo plan, but I'm still being asked to upgrade!
To access the paid features of our product, quit the desktop application. Log in to our website with the email address used to complete your purchase. Then, launch the screen recorder, screenshot tool, or video editor. You can launch the tools from the upper right of your account.


Buttons: Take a screenshot, launch the recorder, open video editor.
This will link your purchased plan with your desktop software.


Still not working? Make sure that you have a paid plan associated with your email. Double-check that you don't have additional accounts.

Click on your initial bubble in the navigation to verify that you have a Deluxe, Max or Premier Plan.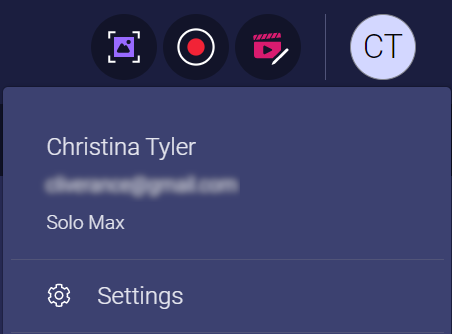 Related Articles

Where can I find my license key for my Solo plan?

Where can I find my license key for my Solo Deluxe, Premier or Max plan? Our software does not use license keys. If you use our tools from our website, please be sure to log in before launching the app to access the paid features associated with your ...

Setting up hosting

Setting up and customizing hosting Free and Deluxe Users If you are a Free or Deluxe (including Team Deluxe) user you have access to our free hosting services that enable storing, customization and sharing your image and video content. You can ...

I have a Solo Plan and would like to purchase a Team Plan

Thank you for your interest in purchasing a plan for your team! We do not currently allow one user to have multiple plan types. To get started with your Team Plan, you can: Purchase the Team Plan with a new email address. Change the email address ...

Join my Team Plan

If your organization purchased a Team Plan that requires you have an account with us (for example, you need an account to host videos and images on our site), you need to join the Team Plan to access advanced features. There are a few ways you can ...

Groups: Usage and sharing

If you are part of a Team plan, your Team Admin can create collections of users called Groups. You can then share content to groups and to collaborate on content projects across your team. Share Content to a group 1. Log into your team account and ...