I have a Solo Plan and would like to purchase a Team Plan
Thank you for your interest in purchasing a plan for your team! We do not currently allow one user to have multiple plan types.
To get started with your Team Plan, you can:

Purchase the Team Plan with a new email address.

Change the email address associated with your Solo Plan, so you can use it to purchase your Team Plan.
To change the email address associated with your Solo Plan

1. Log into our site.

2. Click your user badge. From the drop-down list, select
Settings
.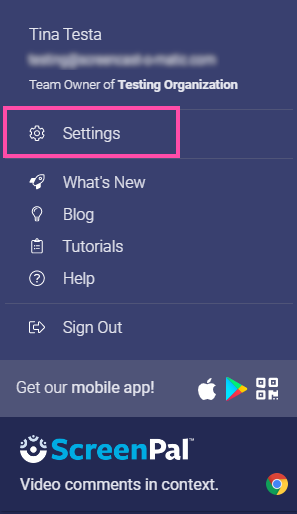 3. Add a new email address using the Email Address field and then click Update My Profile at the bottom of the page.

We will send you a verification email for this account.
Your original email is now available for your Team Plan purchase.
Related Articles

Set up hosting and homepage Solo Premier, Solo Max, and Team Plan subscribers

Premier Hosting Settings Premier Hosting allows subscribers to personalize their viewer's experience. Channels and homepages can be fully customized with your branding. Branding options can include company name, company logos, video player colors, ...

Groups: Usage and sharing

If you are part of a Team plan, you can create collections of users called Groups. You can then share content to groups and add and remove users within a group. Create a new group 1. To get started, log into your account and click My Content in the ...

Where can I find my license key for my Solo plan?

Where can I find my license key for my Solo Deluxe, Premier or Max plan? Our software does not use license keys. If you use our tools from our website, please be sure to log in before launching the app to access the paid features associated with ...

Team Admin: Revoke user access to your Team Plan

If a user leaves your organization, or you no longer want that user to be a part of your Team Plan, you can revoke access and determine how to handle the content that user created. To do this, follow the steps below: 1. Log into your Team account as ...

Join my Team Plan

If your organization purchased a Team Plan that requires you have an account with us (for example, you need an account to host videos and images on our site), you need to join the Team Plan to access advanced features. There are a few ways you can ...