The screenshots tool enables you to capture your desktop, an application window, or a selected area of your screen. Once you take a screenshot, you can embed it in an email, send it as a file, insert it into a recording using the video editor, or share it through a link with content hosting.

Before sharing, you can also enhance your screenshots using the
Image Editor
. Add or replace text, add shape overlays, blur out sections, add highlights and more.
To get started with screenshots, create an account on our website or log in with your existing account.
Launch the screenshot tool directly from from your account page after logging in.

Taking screenshots
You can always access the screenshot tool after logging in via our website. Any time the app is running, you will see the app icon (

) on your Windows taskbar or Mac Menu Bar. This gives you instant access to the tools to take a screenshot, start a recording or launch the video editor.

Click the icon on the task bar or menu bar icon to bring up the menu, then click on the camera icon to Take a Screenshot.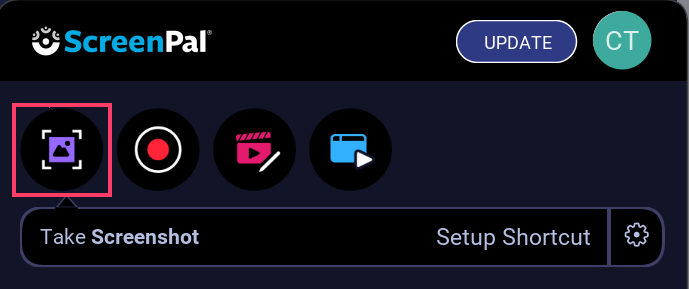 Press Enter to capture your entire desktop.

Single-click your mouse over a fully visible window to capture that window.

Click and drag to capture a specific area of your screen.
​

After you take a screenshot, the image will automatically be copied to your clipboard. You can also choose to edit your screenshot, view the original file, or upload to content hosting to share.

Editing your screenshot
After taking your screenshot, click this icon to edit your screenshot.

In the screenshot editor, you can annotate your screenshot and
Crop/Resize your image.

Add arrows to point out areas of your screenshot

Add shapes

Add highlights

Blur sensitive information

Add text for further explanation

Open screenshot containing folder



Your screenshots are automatically saved on your computer. To open the folder in which they are stored, click this icon.




Publish your screenshot to share



Your screenshots are saved on your computer. If you choose to share your screenshots, you can upload to our hosting site.
Click this icon to upload to your hosting account.

Here, you will be able to choose a title for your screenshot. We will add a friendly title based on what you have captured. You can change this, though, to something that makes sense for your audience. You can also choose the visibility of your screenshot, including adding password protection.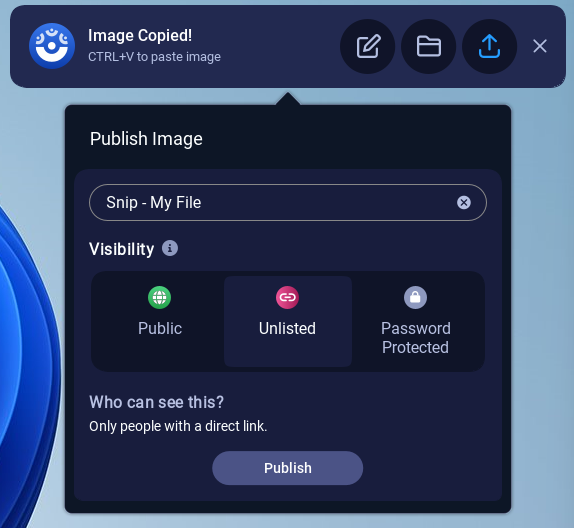 onus: Hotkeys / Shortcuts and Instant Access



To get easy access to screenshots, screen recordings, and the video editor, you can set up shortcuts.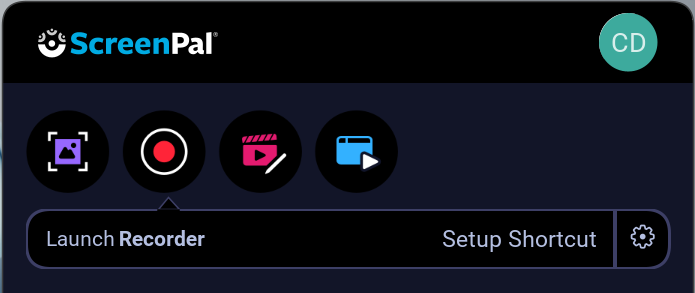 While hovering over the action icons, you will see a cog to set up a shortcut.


Tip: You can also find these settings by clicking your user icon and selecting Preferences.
Under General you will also have the ability to automatically run the app at startup. This is the best option to quickly create and share content.