Record your iPhone or iPad screen
Visit the
App Store
to download our screen recorder for iPhone and iPad.
Use the iOS Screen Recorder:
Open the app and tap the red Rec button.





Select Screencast-O-Matic from the list to make this your default screen recorder.



Tap the microphone, if you would like to capture your sound.



Tap Start Broadcast to begin the countdown to record your screen.



Tap anywhere in the blurry area to close this screen. We will help you trim any time spent on this screen or in our app.



To end your recording, tap the red bar at the top of your screen. You can then save, edit, or share your video.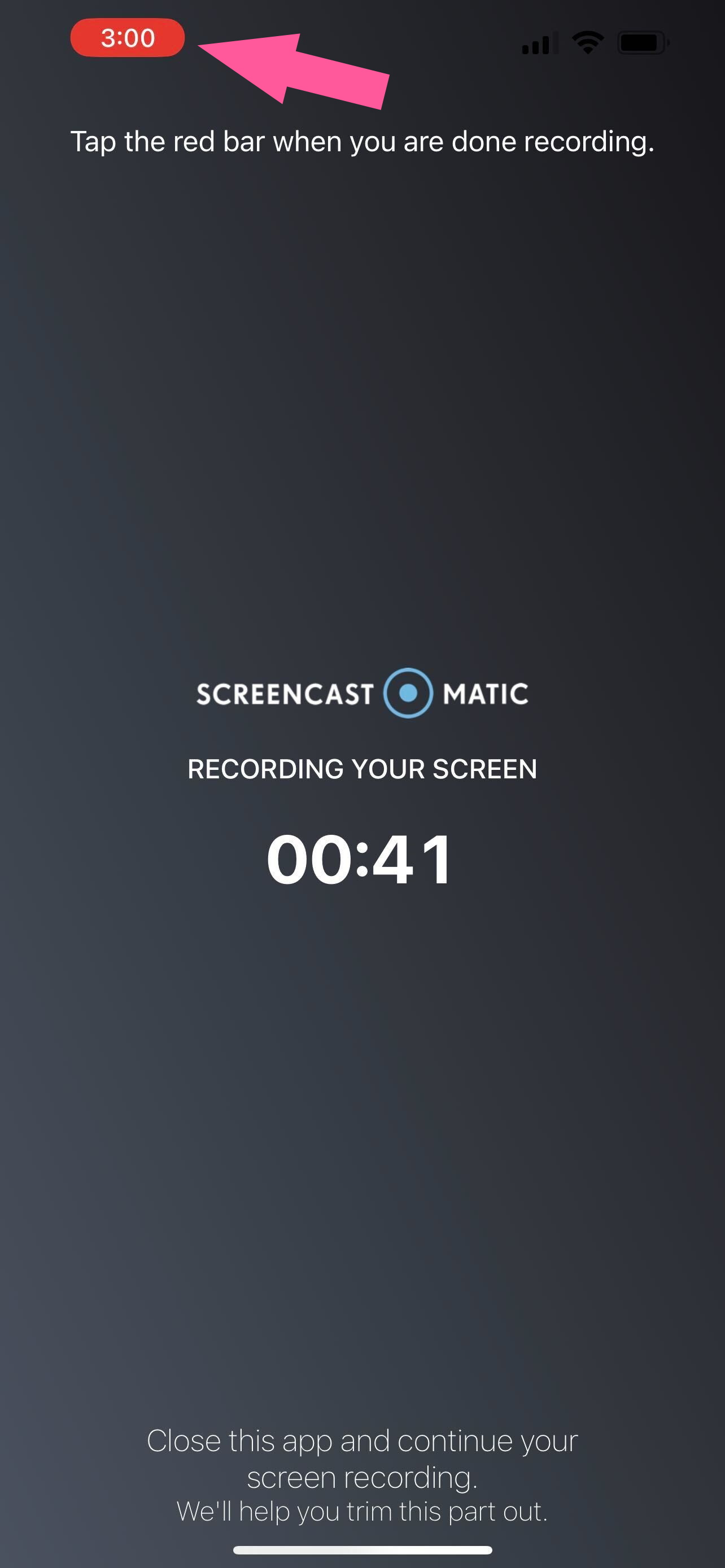 🔕 Tip: Turn on Do Not Disturb to avoid any notifications or disruptions while you are recording.


Please note, you cannot record your screen and camera simultaneously, as this is an Apple iOS limitation.
Related Articles

Mobile App (iOS / iPhone / iPad / Android) - Sound isn't working/recording.

Make sure that your phone is not set to silent mode and that you have sufficient volume to the speakers before you begin recording. Apple iPhone/iPad: When you launch the recorder, you can choose whether you would like to capture system audio or not. ...

Why can't I record my Facecam at the same time as my video on iPhone/iPad?

Due to a limitation of the Apple iOS system, the camera cannot be turned on while recording your screen. However, you can add a Facecam overlay to an existing screen recording by following the steps outlined in Add the facecam to a screen recording ...

Record your Android device screen

Download the Screen Recorder and Video Editor app for Android Get our app on Google Play. Using the Android Screen Recorder: You can launch the recorder by using overlay controls, the notification bar, or directly from our Android app. Record using ...

Why can I only record for 5 minutes with the screen recorder?

Why can I only record for 5 minutes when I use your screen recorder? Our screen recorder requires free space on your hard drive in order to capture screen recordings. You could be running low on free hard drive space which can limit how long you can ...

Overview of the Screen Recorder Launcher API

 Overview of the Screen Recorder Launcher API This guide is for customers who have the Enterprise or Solution Builder Plan and want to incorporate the screen recorder software into their network and application(s). The guide can also be used to ...