Enable ScreenPal Video Preview on a site
ScreenPal Video Preview is a feature that enables you to
experience videos without having to open them and leave the webpage you are currently visiting.
With ScreenPal Video Preview, when you hover over a video link (or thumbnail), the video plays in a small preview window. The preview feature will work on any ScreenPal video link when you have the ScreenPal extension installed.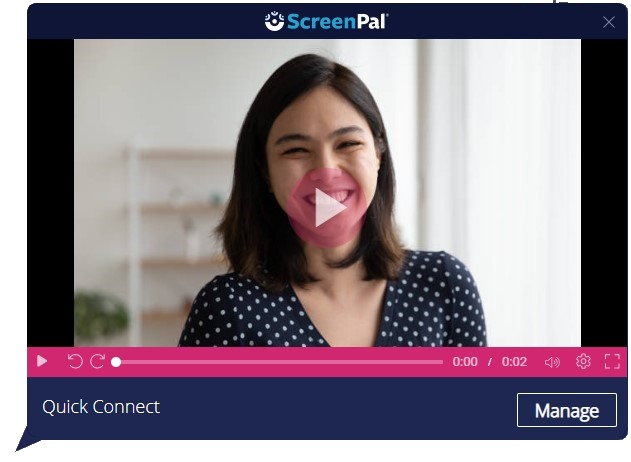 On some sites, we have disabled this feature by default. For example, when you visit your account homepage, we have disabled video preview as this may be distracting to managing your video library (and there is already a preview function for each video).

You may find other sites where we have disabled video preview, but you have the option to enable it from the extension menu. Just click the ScreenPal extension icon to view the menu and then move the slider for Preview videos on hover to On.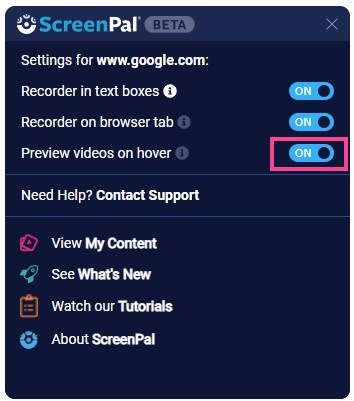 Related Articles

Why can't I see my video on my ScreenPal Content page online?

Why can't I see my videos and images created in the app on my online Content page? Content you create using the app is stored locally on your device. It only gets uploaded to ScreenPal's content hosting platform when you open the video in the desktop ...

Enable and manage commenting on a video

Enable comments on your video You can allow viewers to add text and video comments to your videos by enabling the comment setting on the Video Details tab. To do this, follow the steps below. 1. Log into your account. 2. Click My content at the top ...

Enable the ScreenPal recorder on a site

By default, ScreenPal works on most sites, but on some sites we are continuing to polish the experience. For those sites, we may configure the default setting to disable the ScreenPal screen recorder. You can re-enable the recorder by visiting ...

Edit a video project across a team

You can use the Video Editor to edit your co-worker's video projects, also known as .screenpal (or .somrec) files. To share your video files for editing with your team, you will need to export them from your Project Manager. Click Manage Video ...

Install ScreenPal Extension

Installing in Google Chrome: Visit the Chrome Web Store, here. Click Add to Chrome. Once installed, you will see the ScreenPal icon in web-based text fields. For example: Installing in Microsoft Edge: Visit the Chrome Web Store, here. Click Add to ...