Find the location of your videos
Apple iPhone/iPad:
Your videos can be accessed directly from our app, and can also be found in the ScreenPal album in your Camera Roll. You can access your Camera Roll using the iPhone Photos app.

Android:
Your videos can be found in our app, or in the Camera Gallery.
Videos Uploaded to ScreenPal Hosting:

You can access your ScreenPal hosted videos from your browser.

To access your videos within your browser, log into your account.

Click My content at the top of the page to open your content library and click Videos from the menu on the left side of the screen.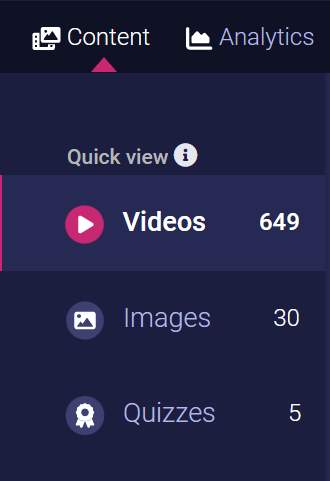 You can then hover over a video and click Details to open it in the Preview area.

Related Articles

Find your videos and images on your hosting account

Please note, we do not automatically upload videos to our site. Your hosting account will only contain the videos that you have uploaded. 1. Login to you account that you used to upload videos or images and visit My content. 2. Clicking My content ...

Combine two recordings or videos

When you work on a video project, often you want to use multiple sources of content. You may have screen recordings and other video content that you need to combine to complete your project. You have several options for combining videos and ...

Find a video that was uploaded to YouTube

Unable to find a video that was uploaded to YouTube If you are unable to find a video that you uploaded to YouTube, please follow the instructions below: 1. Visit this link to access your YouTube Studio account: https://studio.youtube.com/. 2. Once ...

Change the location where recordings are stored

The ScreenPal Project Manager can store your video projects in a location you specify on your computer. You can even store video projects in multiple locations if desired. By default, video projects are stored in the Documents folder on both PC and ...

Import videos from your phone library

Importing videos from my phone library You can import videos directly from your phones' video library so that you can edit those videos and share. Tap the Import button on the upper left of the app screen and then select you video to import. Having ...