You can easily embed your videos on your website using an embed code.

To generate this code, follow the steps below.

1. Log into your account via our website.

2. Click My content at the top of the page.

3. In the Videos area, hover over the video you'd like to embed and click the Details button.

The video opens in the preview area, with several tabs displayed on the right.
4. Click the
Share Video
tab (

).
5. Scroll down to the Video Embed area. Switch the toggle to the ON position.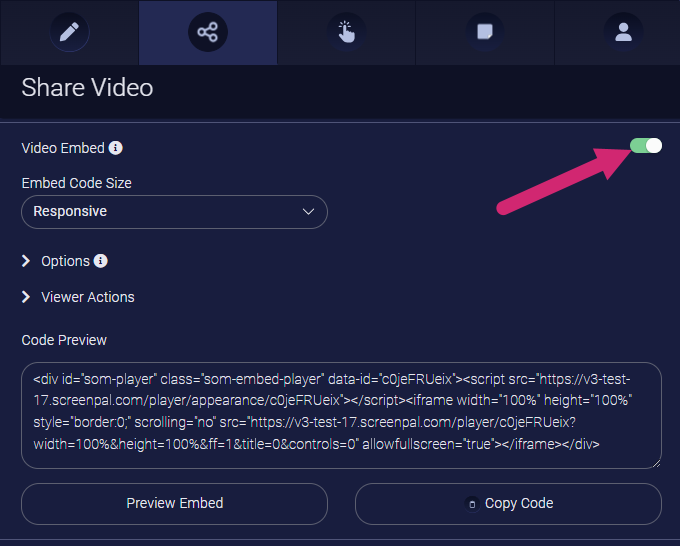 6. Use the Embed Code Size list to select the size of your video. Responsive is selected by default, which auto-scales your video based on the size of the webpage. You can select one of our preset sizes, or Custom to specify your own width and height.

7. You can select the following items under Options to turn them on (displayed in green), or leave them off:

Video Title - Displays the title of the video overlaid on the video when it is embedded.

Player Controls - Displays the player controls for the video, allowing viewers skip forward and backward, adjust the volume, change the playback speed, turn closed captions on and off, and change the video quality.

Captions - Turn captions on or off.
Autoplay Video - Selecting this option means the video will begin playing automatically when users open your webpage.

Please note that this feature may not be available in all browsers.



Mute - Automatically mutes the video when your webpage opens. Viewers can unmute your video, even when the player controls are hidden, by using the mute icon in the lower right corner of the video.

Transparent Background - If your video is embedded in a frame that is larger, or of different proportions than the video itself, the frame is typically displayed in black around your video. When you select Transparent Background, the video's background, or frame, will be transparent, allowing the color of the webpage to show through.

Use oEmbed URL - If you want to create an oEmbed link to the video, rather than a snippet of code, select this option. To read more about oEmbed, click here.

8. Under Viewer Actions, select the actions that you would like to enable for your viewers. You can allow them to share your video on social media, download your video, embed your video on their own website, or copy a link to your video for sharing.

9. Under Code Preview, click Copy Code to copy the code snippet or oEmbed URL for your video and then paste it into the applicable area of your website.

10. To view a preview of how your video will look when it is embedded, click Preview Embed.