Create a channel on YouTube for your Google account
Creating a channel on YouTube for your Google account

Before you can upload to YouTube using your Google account, you must create a channel on YouTube by following these steps:

2. Make sure you are logged in with the correct account by clicking the account icon in the upper right corner: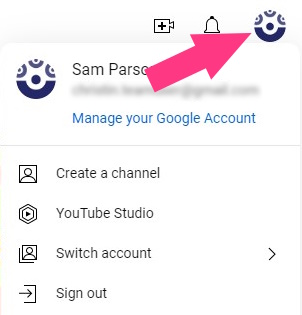 4. Be sure your name and handle are correct and click Create Channel.

Related Articles

Even though I have a Solo plan I am unable to directly upload a recording longer than 15 minutes to YouTube

YouTube has its own upload limit of 15 minutes but you should be able to upload longer recordings there once you verify your YouTube account. This YouTube support article goes into more detail: https://support.google.com/youtube/answer/71673?hl=en

YouTube says upload is unauthorized

If you are unable to upload to YouTube because you see the message "YouTube says upload is unauthorized", use the following steps to reconnect your YouTube account to our Screen Recorder app. Click Cancel on the error message window and then click ...

Google Workspace SAML integration

Google Workspace SAML integration Google Workspace serving as an Identity Provider (IDP) can provide your users with single sign-on (SSO) access via Security Assertion Markup Language 2.0 Standard (SAML) to our Recorder and Video Editor under your ...

Use a Channel Recorder button

What is a Channel Recorder button? Adding a Channel Recorder button enables your audience to launch the recorder and submit their content to your channel. The recorder button launches a version of the screen recorder, that contains a simplified ...

Channel and video visibility settings

There are several visibility options for both individual videos and channels. Unlisted - Anyone with the link can view the video, including people who access an embedded link via your website, a link on social media sites, etc. However, the video ...