Create a channel on YouTube for your Google account
Creating a channel on YouTube for your Google account

Before you can upload to YouTube using your Google account, you must create a channel on YouTube by following these steps:

2. Make sure you are logged in with the correct account by clicking the account icon in the upper right corner: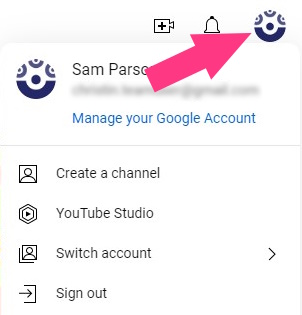 4. Be sure your name and handle are correct and click Create Channel.

Related Articles

Add captions to a recording and upload to your account or to YouTube.

There are several ways to add captions to your recordings using our Video Editing tool. Add captions from a file With a video selected in the Video Editing tool, click in the bottom right of the screen. In the box for Title, enter a descriptive title ...

Google Workspace SAML integration

Google Workspace SAML integration Google Workspace serving as an Identity Provider (IDP) can provide your users with single sign-on (SSO) access via Security Assertion Markup Language 2.0 Standard (SAML) to our Recorder and Video Editor under your ...

Use a Channel Recorder button

What is a Channel Recorder button? Adding a Channel Recorder button enables your audience to launch the recorder and submit their content to your channel. The recorder button launches a version of the screen recorder, that contains a simplified ...

Channel and video visibility settings

There are several visibility options for both individual videos and channels. Unlisted - Anyone with the link can view the video, including people who access an embedded link via your website. However, the video will not be indexed by search engines. ...

Share your recording on Google Classroom

Share your recording on Google Classroom You can use our app to create recordings and edit videos to easily share with students and teachers in Google Classroom. You can quickly share your videos from the desktop application or when accessing hosted ...