ScreenPal Chrome Extension: How to contact support with an issue
If you experience an issue using ScreenPal and need to contact support, you can visit the extension menu from your Google Chrome browser.

First, click the ScreenPal icon in your Chrome toolbar to display the extension, and then click the cog icon in the bottom right corner.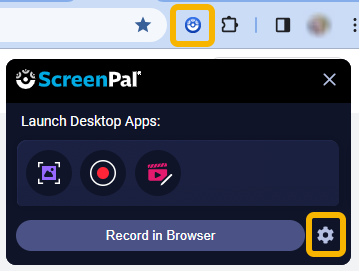 Next, click
Need Help? Contact Support
.

You will then be presented with a Get Help dialog where you can enter your email address and comment on the issue. By default, an App Log File will be attached so we can more quickly troubleshoot the issue. You can download the file to see what information is sent to us and deselect the checkbox if you choose not to send the log file.

If you are not using Google Chrome, need a different way to contact us, or need help with other issues, please visit our
Help Center
page.
Related Articles

Send us an error report to get help

If you experience issues while using any of our apps, you can submit an error report by following these steps: Windows or Mac Desktop Apps Open the app from your Start menu or by logging in and clicking the on the upper right of the page. In the ...

Install the ScreenPal Extension

Follow the instructions below to install the ScreenPal extension for Google Chrome and Microsoft Edge. Our extension enables you to quickly launch our desktop apps, including the Screenshot tool, Screen Recorder, and Video Editor, and record video ...

New ScreenPal Chrome extension is disabled

Accept permissions for the new ScreenPal extension Please note that if you were running the old ScreenPal Video Messaging and Desktop Launcher extensions and you install the new extension, Chrome will disable the existing installation until you ...

Chrome Extension: My webcam or mic isn't working (Windows)

If you are using Windows and your webcam or mic is not working while using the ScreenPal extension (after clicking the ScreenPal icon in a text box, or launching the Screen Recorder from the Chrome extension, you may not have enabled Chrome ...

Hide and Show the ScreenPal extension on websites

You can control showing or hiding ScreenPal on specific websites. To hide ScreenPal on a specific website, begin navigating to that website. Next, click the ScreenPal extension icon in the Google Chrome toolbar. Then, click the Settings (cog) icon in ...