Change your account email or password
How do I change my account email or password?

You can change your account name, email address or password by logging into our website, clicking your user icon in upper right of page, and then clicking Settings from the menu.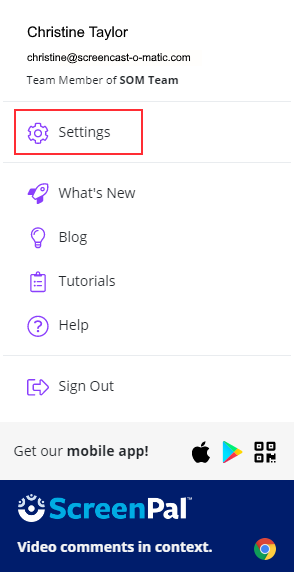 From the My Profile page, you can view and change your contact information.
If you change your name or email address, click Update My Profile to commit the change.

If you click Reset Password, we will send you a password reset link to the requested email so you can change your current password.


Note: The Password Reset area is only displayed if you are not using a Google or Apple account to log into our site. If you are using a Google or Apple account to log in, your password for that account is used.

Related Articles

Add your account to our mobile app

You can quickly log into your account using our mobile application to upload mobile recordings to your account and access the features associated with your account from your iOS device. To do this, follow the steps below. 1. Open our app on your iOS ...

Transfer ownership of a Team account

What is an Account Owner? An Account Owner is different from an Account Admin. Account Owners are Super Admins and can perform several activities that Account Admins cannot. There can only be one Account Owner per Team Plan. If needed, you can ...

Change the location where recordings are stored

The ScreenPal Project Manager can store your recordings in a location of your choosing on your computer. You can even store recordings in multiple locations if desired. By default, recordings are stored in the Documents folder on both PC and Mac. ...

How do I know if my account has been added to a Team Plan?

The steps below assume that you already have an account that is associated with a Team Plan. If your organization has a Team Plan that does not require you to create an account to access our tools, see My Team Plan does not require account creation; ...

Change the framerate (fps) that the Recorder uses to capture the screen

Is there a way to change the framerate (fps) that the Recorder uses to capture the screen? Our screen recorder will capture at the highest framerate possible. There is not currently a setting to customize the framerate setting.