Automatically Import into ScreenPal feature does not work
For some Mac users, when you click Automatically Import into ScreenPal, the checkbox remains unselected. A tooltip is then displayed which states, "ScreenPal needs your permission to listen for new screenshot files."

This issue occurs when you click
Don't Allow
on the
ScreenPal would like to access files in your Desktop folder
message when setting up ScreenPal.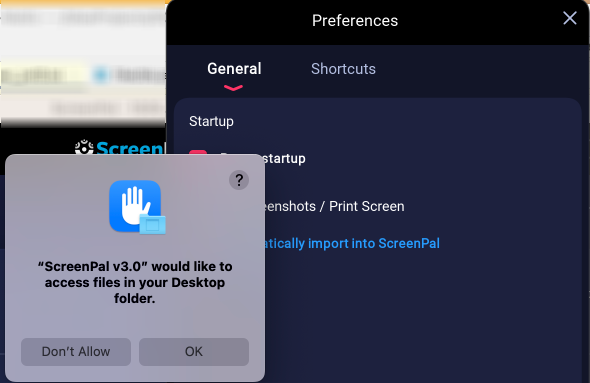 To fix this issue, follow these steps:

1. Click the Apple menu (

) and select
System Settings
.
2. Click
Privacy & Security

in the sidebar.
3. Click Files and Folders on the right.

4. Expand the ScreenPal app in the list and toggle the Desktop Folder option on.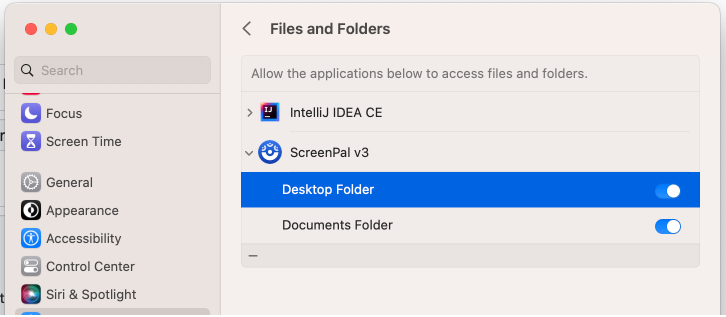 For more information about how to control access to files and folders on Mac, see
this Apple Support
article.
Related Articles

Install the ScreenPal Extension

Follow the instructions below to install the ScreenPal extension for Google Chrome and Microsoft Edge. Our extension enables you to quickly launch our desktop apps, including the Screenshot tool, Screen Recorder, and Video Editor, and record video ...

ScreenPal FAQ

Q: What has changed? A: Our name and branding. You can still expect the same quality products and support, with a new name that is easier to say, spell, understand, and type. Our tools work the same way they always have, with a fresh look. ...

Team Admin: Feature Access Settings

Definitions Team Creator: A user who has consumed a creator license by launching a creator tool (i.e. Screen Recorder, Video Editor, Screenshot, or Image Editor). Licenses are not tied to a specific computer or user. Instead, a license is consumed ...

ScreenPal desktop preferences

You can access the General preferences for the ScreenPal desktop apps from the tray menu on Windows or the menu bar on Mac. To open the tray menu on Windows, click the ScreenPal icon in your system tray: On Mac, click the ScreenPal icon in your menu ...

Import your Chromebook recordings to a Mac or PC for editing

Our Chromebook application allows you to make recordings of your Chromebook screen. You can then import these recordings onto a PC or Mac for editing. How to Import your Recordings to a Mac or PC Step 1: Upload Chromebook recordings to our app View ...