Artifact Issues with Recording and Display of Webcam Video on Mac
Why am I seeing artifacts after selecting the Background Removal options and when using a webcam on my Mac?

The tool for removing your background does not work well with certain color profiles on Mac. To fix this issue, you can switch to the sRGB color profile, using the following steps:

1. Click the Apple menu

>
System Settings
, and then click
Displays

in the sidebar. (You may need to scroll down to see this item).
2. Click the pop-up menu next to Color profile on the right.

3. Select the profile you'd like to use. In this case, select sRGB.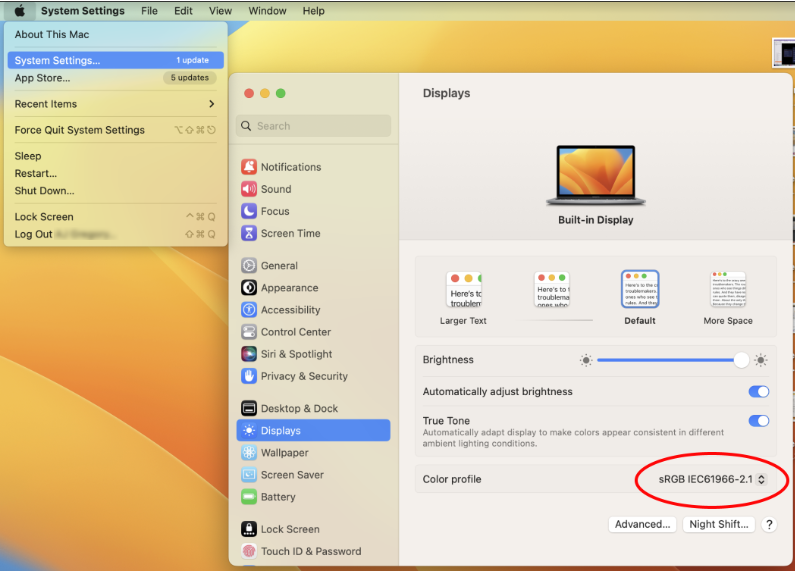 Using this color profile will give you better results when removing your background and recording your webcam.
Related Articles

Adjust, resize, and crop a webcam recording

If you want to adjust your webcam recording, you can easily resize and crop it in the video editor. After you complete your webcam recording, click Done and then click Save/Upload. 1. Edit the video and click on the webcam preview. The Camera menu ...

"Sorry, this recording has missing files since iCloud Drive 'Optimize Mac Storage'" is enabled

Our application stores your Video Projects by default in the Documents folder on your Mac. Each Video Project is made up of several different files. Mac users may find that some of their Video Projects are missing due to the use of iCloud's "Optimize ...

Grant permission to record on MAC OS

Grant Screen Recording permission If you are experiencing issues recording your screen with our application using MAC OS, or if the application is only recording your background or wallpaper, follow the steps below to troubleshoot this issue. 1. On ...

How to find a Recording using the Free Recorder Subscription

If you are experiencing issues finding your videos after creating a recording using the screen recorder with a Free subscription, try completing the steps below: 1. If you saved the video file to your computer (using the Save As Video File option) do ...

Edit a video project across a team

You can use the video editor to edit your co-worker's video projects, also known as .screenpal (or .somrec) files. To share your video files for editing with your team, you will need to export them from your Project Manager. Click on 'Manage Video ...