Artifact Issues with Recording and Display of Webcam Video on Mac
Why am I seeing artifacts after selecting the Background Removal options and when using a webcam on my Mac?

The tool for removing your background does not work well with certain color profiles on Mac. To fix this issue, you can switch to the sRGB color profile, using the following steps:

1. Click the Apple menu

>
System Settings
, and then click
Displays

in the sidebar. (You may need to scroll down to see this item).
2. Click the pop-up menu next to Color profile on the right.

3. Select the profile you'd like to use. In this case, select sRGB.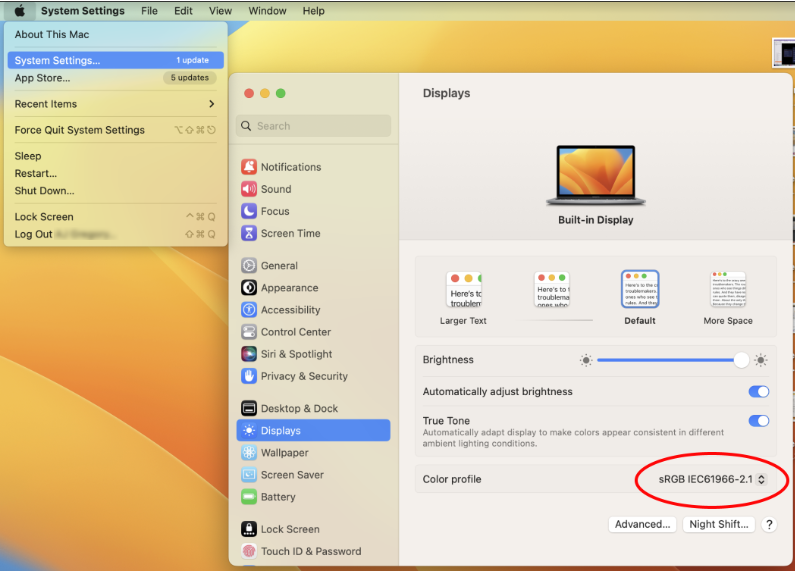 Using this color profile will give you better results when removing your background and recording your webcam.
Related Articles

Adjust, resize, and crop a webcam recording

If you want to adjust your webcam recording, you can easily resize and crop it in the video editor. After you complete your webcam recording, click Done and then click Save/Upload. 1. Edit the video and click on the webcam preview. The Camera menu ...

Why does the Screen Recorder crash or the webcam window freeze when I try to record with the webcam?

If the Screen Recorder crashes (or you only see a static image in the webcam window) when you try to record your webcam, you may have another application installed that is causing a conflict when the Screen Recorder tries to use the webcam. Check to ...

Why can't I see my video on my ScreenPal Content page online?

Why can't I see my videos and images created in the app on my online Content page? Content you create using the app is stored locally on your device. It only gets uploaded to ScreenPal's content hosting platform when you open the video in the desktop ...

Customize your webcam

When you use ScreenPal's Screen Recorder to record your screen and webcam together, you can easily customize the appearance of your webcam. Begin by opening the Screen Recorder and click Both. This displays your webcam preview. To change the shape of ...

Selecting Mic and Webcam

The ScreenPal extension will automatically select your operating system's default webcam for recording. You can choose alternate devices by clicking either the Record in Browser button on the extension, or the ScreenPal icon in either a text box or ...