Add a new channel
To add a new channel to your account, follow the steps below.

1. Log into your account and go to
MyContent
.
2. On the left navigation bar, to the right of
Channels
click (

).

3. This opens the New Channel dialog.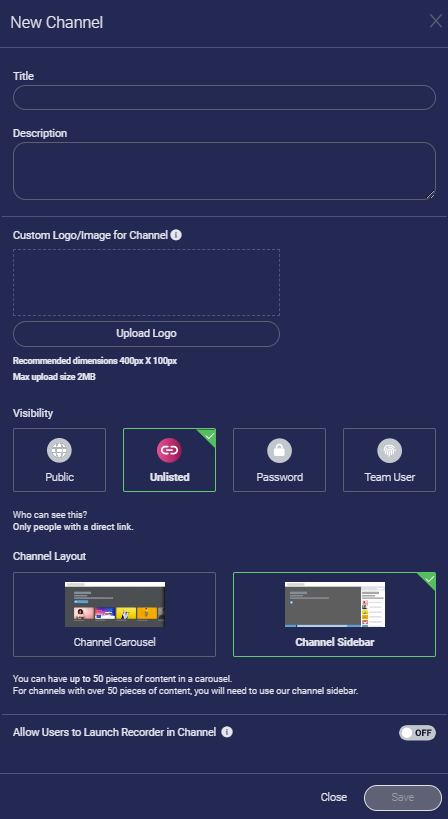 4. For Title, enter a title for the channel.


5. For Description, enter a brief description of the channel, if needed.


6. Under Custom Logo/Image for Channel, you can click Upload Logo to upload an image or logo that will be displayed at the top of the channel page.


8. For Channel Layout, select Channel Carousel or Channel Sidebar.


Note: A channel carousel can display up to 50 pieces of content. If you have over 50 pieces of content in your channel, you will need to use the Channel Sidebar option.
9. To enable your users to record and submit uploaded videos from within the channel, switch the Allow Users to Launch Recorder in Channel to the ON position.


10. To save the new channel, click Save.
Edit a channel
To change the settings for an existing channel, simply select that channel from the sidebar on the left side of your content page (or click details on the channel thumbnail) and then click the Edit button in the top right corner.


This opens the Edit Channel page, which contains the same menu as the New Channel dialog.